Kyle MacLachlan Faces The New Frontier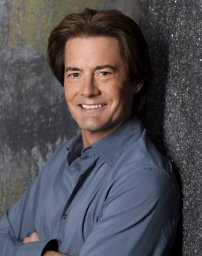 Maud-Dib-El?
Credit voice casting director Andrea Romano for impeccable and uncanny taste in matching actors to animated characters. For Superman the Animated Series, she made us believe Tim Daly should have played the Last Son of Krypton. For Superman Doomsday, she placed Adam Baldwin in the role of a Man of Steel facing his own death. And for The New Frontier, she brings us another perfect Superman for the era of Father Knows Best -- Kyle MacLachlan.
This actually isn't the first time the cult favorite actor had a shot at playing the 1950's Superman. Though the piece below doesn't mention it, MacLachlan had been in the running to play George Reeves in the film that would eventually be Hollywoodland. It's nice to see he finally got his shot, and we're anxious to hear the results.
From Warner Home Video:
From his head-turning debuts in "Dune" and "Blue Velvet" to his iconic Special Agent Dale Cooper in "Twin Peaks" and his current plum primetime role on "Desperate Housewives," Kyle MacLachlan has had a memorable career.
Now you can add a new benchmark for the actor: MacLachlan makes his animation debut as the voice of Superman in the highly-anticipated direct-to-DVD film, "Justice League: The New Frontier."
"Superman stands for so many things that I believe in – strength, justice, fighting for what's right," said MacLachlan. "You just can't turn down the opportunity to play a guy like Superman."
MacLachlan is an integral part of an all-star cast that includes Neil Patrick Harris, David Boreanaz, Brooke Shields, Miguel Ferrer, Jeremy Sisto, Kyra Sedgwick and Phil Morris. Casting for the film focused on finding actors that could channel the tones of the Korean war era of the mid-1950s without sounding corny or old-fashioned.
"Kyle MacLachlan is the perfect example – he sounds exactly like what you'd think a '50s era Superman would sound like," explains executive producer Bruce Timm. "He's very righteous and good, but still very natural. We didn't want the sound of Superman in 2008, and Kyle gave such a great, stylized performance in capturing that mid-50s feel."
MacLachlan doesn't claim any specific talent for a '50s super hero – he just tried to echo the Superman in his psyche.
"There's a sort of moral imperative that Superman has, and I think the language he uses is a little more proper -- he's just not a guy who uses his words casually," MacLachlan said. "So maybe, unconsciously, that 1950s tone just creeps in there for me."
You can trust him.

MacLachlan enjoyed his first voiceover experience in animation, though it was not without challenges. As usual, the cast recorded the script before the animation began, then the cast returned to the booth about 10 months later to add and tweak the dialogue and effects. While MacLachlan is accustomed to live-action looping, the animation equivalent proved more challenging.

"When I'm synching to myself in live action, which is what I usually do, my mouth moves the same way and I can see it visually and it somehow connects," MacLachlan said. "This is a little more difficult because the animated mouth moves a little differently -- the animation doesn't quite have the same amount of detail that you would see in a real-life performance. Like the word "strategy" – we were having trouble in the booth getting that one right because I couldn't really see how it was formed in my animated mouth. But we made it all work."

MacLachlan found particular amusement in the voicing the action sequences within the film, particularly those moments that called for going beyond even the far-reaching imagination of his roles in David Lynch films.

"The physical performance is fun – you have to use your imagination a lot more," he said. "It's a lot of grunts and oomphs and ughs, which you just can't help but act out physically. I'm sure it looks funny from the other side of the glass. Like in one scene, it was about getting hit with a pterodactyl wing versus getting punched by a super villain. There's apparently a difference in that sound. So you have to shade it a bit and use the imagination."

MacLachlan admits it will be tough to accept another super hero role after his performance in "Justice League: The New Frontier."

"Once you've done Superman, it's hard to go anywhere else," MacLachlan said. "So I think I've reached the zenith of my super hero experience."