Andy Belanger:
Bringing Shakespeare To Life To Kill Him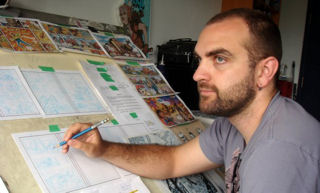 Andy Belanger, busy at his drawing board.
Long overdue, here's our conversation with Andy Belanger, the artist on one of my favorite books this year, Kill Shakespeare, published by IDW and written by Anthony Del Col and Conor McCreery.
All three creators align to create a book that's part literary mystery, part wild fantasy and for those of us who care to see it, dramaturgical exercise. We're a small group, but we must be appeased. Kill Shakespeare does that.
At WonderCon, I sat down with all of them to talk about the first issue that was about to hit. I was gratified to see that their popularity has only grown since then, as they were pretty busy at Comic-Con but still took a moment to catch up.
With the fourth issue hitting stores on Wednesday, featuring Juliet and Othello, it's time to shed some light on Andy Belanger, the artist that brings all this to life on the page...
Derek McCaw: What was your background before landing Kill Shakespeare?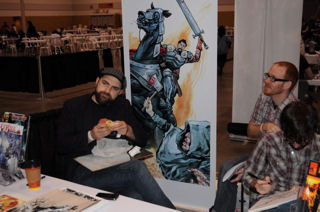 Andy Belanger,taking a rare break during a convention experience.

Andy Belanger: I've been a professional comic book illustrator for about four years. I'm at a studio in Toronto called the RAID Studio, the Royal Academy of Illustration and Design, with five other artists. When I joined the studio, it was Cameron Stewart, Karl Kerschl, Ramon Perez , Scott Hepburn, we have Bill Dawson in there now and myself. We've been there for years. We had Eric Kim.

It's a big group of Toronto artists all working together. Every week we have a Superman Day club, where we get together, it's sort of a big tight-knit group. And these guys sort of helped me along. I started doing self-published stuff, going to shows. I'd rent classic cars and sell my comics out of the back, out of the trunks. And these guys were, ooh, who's the cool guy with the classic cars selling comics? So I started throwing parties and having them over. Pretty soon I was invited into the studio. With these guys, I've just been working my rear off to get better and better and better over the years.

My first big break was with Wildstorm doing Friday the 13th. I did stuff for Moonstone, I've done covers for Devil's Due, I was doing Chucky Halloween covers, I did a story for Boom… so it's been a lot of one-shot stuff.

Then last year, I'm really good friends with the guys that run Zuda Comics. I was out for a drink with them one night, and I said "hey, we're all drunk and I've got an idea for a story called Bottle of Awesome." And they said, "Hey! That sounds amazing!" So based on that title I sold them on that project and that's an ongoing series I'm doing right now on Zuda.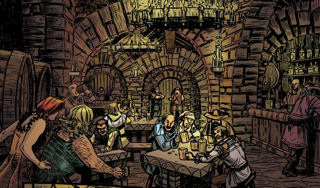 Hamlet and Falstaff walk into a bar...

So I started doing that as well. That was my first series, but it was a web series. I do that in a very cartoony style. It was meant to be my Simpsons or my Family Guy. I really wanted to prove my chops; I can do mainstream. Based on the stuff I've done, I didn't really think anyone would give me the time of day and say, let's do a Batman or something like that.

Kill Shakespeare was going to be that project. I wanted a serious twelve issues, really big, really long - in print. For years, I've been trying to get that (type of) series. When I started on Friday the 13th, the guy at New Line said, oh, Andy does my favorite comic. And then New Line folds. Then it was like, sorry, New Line folded, there's nothing we can do.

I've been chasing trying to get a regular imprint series as well as the series I do online. I also do Raising Hell for Transmission X, which is all those names I mentioned earlier; we all do webcomics. My background for the last two years has been heavy, heavy webcomics.

I've just been trying to get into some print stuff. These guys (Anthony Del Col and Conor McCreery), right from the bat were awesome to work with. Every time I turn around -- like we did a panel and it was at 2 o'clock in the afternoon on a Friday. Everyone's in school; everyone's working. So I was like, guys, guys, no one's going to come to this panel. I've done panels on a Sunday and nobody shows up! They said, oh, no, there will be sixty people there. I was like, what? And they said, no, we've got classrooms of people. I was just blown away.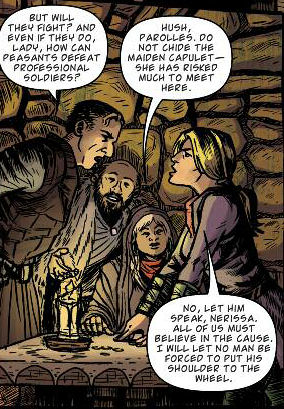 Juliet makes her debut...

I get to the panel and it may be the best panel I'd ever done. It was like professors of Shakespeare, and there were Shakespearean actors , there's other comic book creators… every step of the way these guys are amazing, and I've had an absolute blast working on this book.

I'm working really, really hard on making this book look the way I want it to look. I really wanted it to have a very European flavor. I like characters in costume, but a little more slimmed down and backgrounds, backgrounds, backgrounds.

I want the world of Shakespeare to be very lush, lots of cool castles that you want to travel in, lots of forests that you want to get wrapped up in, that magic element.

...which absolutely works. Be sure to pick up Kill Shakespeare #4 this week, and if you haven't already, go back and catch up on this smart series that captures everything fun about Shakespeare's plays without making you use Cliff's Notes.

In case you missed them:

Interview with Anthony Del Col and Conor McCreery