The Adventures of Kevin Burns
part 3: Putting Together the Definitive Superman Story
part 1, part 2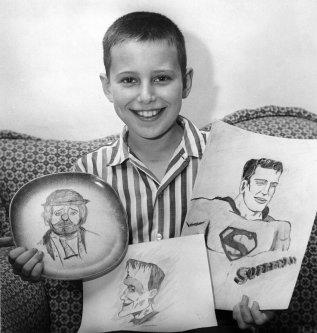 Kevin shows us his fanboy credentials...
Derek McCaw:
Did anything about this documentary surprise you?
Kevin Burns: There was the stuff I hadn't seen. There wasn't too much, honestly, that I didn't know. It was funny. I knew enough about Superman's story that the outline pretty much followed what we talked about.
I was very intrigued, if you want to know the truth of it, at the making of the Christopher Reeve movie. I knew a little about it, but when you're sitting there interviewing Richard Donner and Ilya Salkind and Tom Mankiewicz and Margo Kidder and Jackie Cooper…that could have been a two hour doc right there.
The making of the original Christopher Reeve Superman is a great story, just how that movie got off the ground.
Meeting Jon Peters, who is a legend in many many ways. And looms large in the mythos of Superman, I mean good and bad. He has always been kind of a loved and hated character. Everything from the former hairdresser who lived with Barbra Streisand to the guy who did Batman, and of course he and Peter Guber at Columbia Pictures. Then the infamous stories about him on the earlier drafts of the (Superman Lives) script and incarnations of the film.
It was fascinating to meet him. Of course, having him come into the studio two hours after his ex-wife had exited, Lesley Ann Warren. I don't know any reason why they didn't know they were in on the same day, but we certainly didn't want to invite any problem, some reason why either might say, "oh, they're coming in, then I'm not coming."
It was kind of cute. We knew that they were both coming in that day. Lesley Ann Warren I knew because we had done her Biography on A & E.
What I didn't know was that there was a television version of the Broadway musical. I didn't know until we started the production; Mark McLaughlin, a wonderful researcher, found it out and tracked it down to the fellow Norman Twain who had produced it.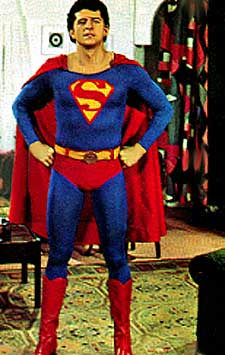 David Wilson in musical tights.

And he literally had what could be the only copy of it, a two-inch videotape that was in a tape storage somewhere. He unearthed it and was very nice to let us license it for virtually nothing. We cleared the songs, and it stars this guy named David Wilson, whom we found. We didn't interview him, but we did track him down because we had to clear him. Loretta Swit was in it, and Kenneth Mars, David Wayne and Lesley Ann Warren. Just fascinating.

Of course, I've seen it, and it rivals the Star Wars Holiday Special. Truly execrable.

Derek McCaw: I think it's now available on home video.

Kevin Burns: Not legally. It's not officially available, but it is hysterical. It's played the way it was intended to be played. The thing was shot in four days and aired at 11:30 at night on ABC, and then was never seen again.

(It turns out that the CD of the original 1966 Broadway cast is legally available here!
)
Finding that, that was kind of cool. Finding Superpup in color, that was cool. Finding out that the negative to the Fleischer cartoons were with Warner Brothers. That was really cool.
Getting them transferred in high definition for the doc, that was really cool. They look unbelievable. Image Entertainment put out a really nice set, the nicest set that I've ever seen, of the shorts. But the ones we got from Warner Brothers took our breath away.
Derek McCaw: So are you going to press them to put those out?
Kevin Burns: They are going to put them out. It was nice to get the clips we could put in the documentary. What was really wonderful about the documentary was, well…
Empire of Dreams I shot the interviews in high definition. It was the first time I'd ever done anything like that. When it came time to master the show, it was mastered in regular anamorphic, and it was NTSC. It was not high definition. We down-converted all the interviews. Lucasfilm archived all the interviews in Hi Def, but the show was not.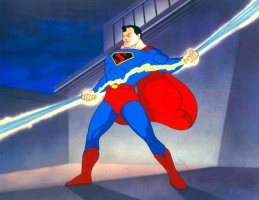 I'm already drooling for the Hi-Def.

Warners wanted this show delivered in high definition. Everything mastered in Hi Def, up-converted or down-converted. It was logistically very big and expensive, and made everything more difficult. But the results were really jaw-dropping.

First of all, the Christopher Reeve movies. Smallville, which I think after Season 1 was pretty much mastered in Hi Def. Certainly, Bryan's movie. The stuff is just beautiful.

Even though the old George Reeves television show was digital transfers, not Hi Def transfers, it was astounding how good a lot of those old episodes look.

In fact, tomorrow night (actually, last Wednesday) we're having a screening on the Warner Brothers lot. It's sort of a cast and crew thing; we invited Brandon and Kevin Spacey might show up. Of course, Bryan and I will be there. It's basically a thank you to the cast and crew. Richard Donner is supposed to come.

I don't mean to come off as a fan of Bryan, because that's not what I am - I'm a friend of his, but I'm not a fan. But as grinding as it has been for him to do the feature, and he's working unbelievable hours, the poor guy should be in a hospital bed, he's just obsessed. On everything.

Every frame of this movie, every shot, every effect, every pixel, he goes over with a fine-toothed comb, over and over and over. He wants it to be perfect. He's haunted by the responsibility of it. Again, he just appreciates what responsibility he's been handed.

He's not intimidated by it. In other words, he's up to the challenge of it. It's almost like he's been hired to exercise his vision, so he squeezes that vision from himself every single day.

Part 4: Seeing the new movie and walking through the past...