Cliff Meth Prepares a METHo.d.
Interviewing a decent human being with a dark imagination...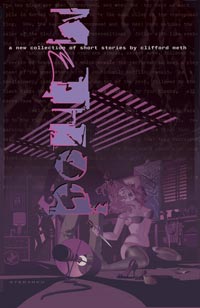 That Steranko cover!
We first met writer Cliff Meth when legendary comics artist Dave Cockrum faced crushing medical bills and a terrible financial situation. A long-time friend of Cockrum's, Meth contacted every website, comics journalist and professional he could think of to call attention to the artist's plight.
He's good people. But then, Harlan Ellison knew that, and told our contributor Jason Sacks all about it.
The Dave Cockrum story had a relatively happy ending, with the creator of Nightcrawler (among others) receiving a nice settlement that helped restore his financial health. But of course, the comics industry has tended to eat its old professionals, and soon enough Meth sounded the horn again when hard times hit William Messner-Loebs.
Having worked on both sides of fandom, as a fanzine writer then a professional, Meth has garnered many friendships among the giants that influenced our childhood imaginations, and he has fierce loyalty toward them. Clearly, the affection is returned, and a few nights ago Cliff Meth contacted me about his new collection from Aardwolf Publishing, METHo.d.., due out in March but available for ordering in the January Previews.
Described by the publisher as a collection of "angry tales," the 110-page book features illustrations from top talents like Steve Lieber, Messner-Loebs, Al Milgrom, with a cover and design by the legendary Steranko. As if that wasn't enough, Meth even got an introduction by Peter David.
We spoke for a while about this new collection and spun a few remembrances.
Derek McCaw: What can we expect out of this book?
Cliff Meth: It was supposed to be called "Mean Little Stories," but but Jim Steranko, who designed the cover, really liked METHo.d. and it's hard to say no to Jim.
(It's) largely dark/SF/horror-type stuff, but not straight up...my first all-new collection in 6 years. The last one, PERVERTS, PEDOPHILES & OTHER THEOLOGIANS, was Barnes & Noble's Horror Pick of the Week for two weeks and stayed in their Top 10 for 6 weeks.
One of the stories from the book was already optioned.
So much for the hype.
Derek McCaw: I see you've got Messner-Loebs onboard doing art, which is something we haven't seen from him for some time. How did you get him to do it?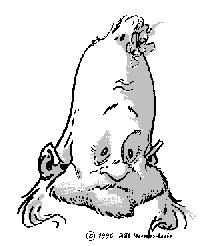 A Messner-Loebs self-portrait.

Cliff Meth: Bill and I go back 30 years. We worked on some fanzine stuff in the mid-70s and we've been pals ever since. In fact, we're co-writing a graphic novel together right now...

I showed him some of the stories from this book and gave him the pick of the litter. He liked one called "Back on The Horse," called his art "Back on the Whores," which was fitting.

Derek McCaw: With all these excellent comic book artists illustrating your stories, why aren't you writing, for lack of a better phrase, comic book stories rather than illustrated fiction? Or is that a euphemism?

Cliff Meth: I love the industry, love fandom, and collect artist friends like others collect comics, but I've always considered myself a real writer, if you'll excuse the expression.

Derek McCaw: You consider yourself a real writer, yet are eager for film optioning. Does that conflict in any way? Or do you plan on adapting yourself to the screen?

Cliff Meth: I learned to write short stories by reading the great SF masters, then letting Harlan Ellison kick the shit out of my early manuscripts. Options give you the money (and thus the time) to pursue serious projects.

Of course, I'd rather do the screenplays myself, and suspect I might get the opportunity. I've spent the last 18 months working on film projects, just finished a stint working with Peter David (as his editor) on Gene Roddenberry's "Starpoint Academy" for IDT Entertainment and I've adapted Dave Cockrum's Futurians for the screen, also for IDT.

Derek McCaw: I'm a big Futurians fan. That's cool to know.

Cliff Meth: Well, one can only hope it will actually get made. But the screenplay is done.
I've updated it, somewhat -- the dialogue to closer to the way I write than Dave's original graphic novel, but the plot was his, with some twists. I added a romance.

Derek McCaw: You've collected artist friends. You have people like Steranko working on your projects. Is there anyone you're dying to hook up with that you haven't yet?

Cliff Meth: Mark Texeira. We talk about it, but when we get together, we end up getting drunk. His fault. Not mine.

I was turned down by (Steve) Ditko. Everyone else has said yes.

Derek McCaw: What did you want Ditko to do?

Cliff Meth: A story. A cover. Anything. And money was no issue--Jim Reeber (Aardwolf's publisher) was delighted to pay Ditko's price, but Steve didn't like my stories. Said they were too negative. That was ten years ago.

But I've been very lucky. I've had covers by Joe Kubert, Gray Morrow, Michael Kaluta, Mike Ploog, Dave Cockrum, Joe Linsner, Gene Colan, illustrations by Alex Toth, Marie Severin.

I regret that I never asked John Buscema. We had a nice friendship. He was close with the Cockrums (who I'm very close with) and Marie Severin (ditto) and he did some art for me that hangs in my home, but I never asked him to illustrate a story.

Big mistake.

Whether it's luck as the gracious Meth would have it, or the Americanized concept of karma, the energetic writer continues getting the best in the business to collaborate with him on his flights of dark fancy.

METHo.d. has a cover price of $14.95, and Aardwolf Publishing offers all of Cliff's books (and possibly all their output -- but don't quote us) with a money-back guarantee. As Meth himself asked, "how's that for confidence?"