Brooke Shields Loves Green Lantern
Star of Lipstick Jungle plays Carol Ferris in The New Frontier...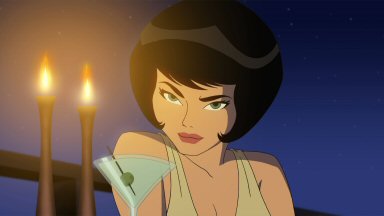 Nothing comes between her and her Hal Jordans...

Never, never in my childhood could I imagine that actors popular for their faces would be voicing my favorite superheroes for cartoons. (The exception, of course, would be Adam West, but that's the one that proved the rule.)

Look at the talent for The New Frontier -- people from screens big and small, in a story so epic we know it couldn't be done for a live-action film. So it's pretty cool that they seem to be as into it as we are...

Take actress Brooke Shields. She's faced down Tom Cruise -- but she'll melt for Hal Jordan...

From Warner Home Video:

Brooke Shields has a secret.

The star of NBC's new primetime drama "Lipstick Jungle" is harboring a guilty little desire that is just waiting for an opportunity to be released: Brooke Shields wants to be a super hero.

"I'm so drawn to the concept of a female warrior as the lead character – I've loved it since before they had shows like Alias and Bionic Woman," Shields admitted. "As I'm not exactly, let's say, a dainty girl – I'm not frail, and no matter what I do, I'm not little – I've always secretly wished to have to go through some kind of training to do a big, physical role. I've trained with the Blue Angels and I've done triathlons, but ultimately, I think I want to be a super hero. Okay, I just want to play a super hero. I think that would be great. I'd love to do that kind of role."

In "Justice League: The New Frontier," Shields doesn't actually fill one of the super hero roles. Well, not yet. Shields provides the voice of Carol Ferris, who gives Hal Jordan his shot at outer space – and ends up becoming his girlfriend, as well. Hal Jordan, voiced by David Boreanaz, makes his transition to Green Lantern in the film. Still, Shields takes solace in knowing that in the annals of comic book history, Carol Ferris becomes the super villain "Star Sapphire." That transformation doesn't occur during this film, but Shields was still ecstatic about voicing a key character in an epic super hero tale.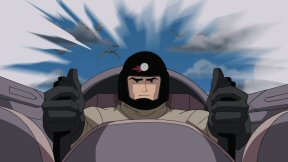 Hal has his sights set on her, too...

"There's nothing silly about animation to me," Shields said. "I'm always impressed with the artists and the technology. It's also really nice to be behind the scenes, but still be an actress. The characters themselves precede you, but you're still right with them, supporting them. There's a wonderful thing that happens when you have the cans (headphones) on and there's time and place to sort of infuse these characters."

Shields' one regret was not getting to see her character earlier in the production. Shields and the all-star cast recorded the dialogue for the film in late 2006, prior to the animation being done. They returned for additional dialogue recordings in the latter half of 2007, this time looping their revised dialogue to the finished animation.

"I wish the animation process was done in reverse – it was such a different experience to record to picture versus just recording without the visual reference," Shields said. "I didn't really know who she was as much without the picture. When we were initially recording it, before the animation, sometimes it felt flat. We worked on modulations, but I was not as clear on her character – I think I needed the picture in my head for it to take on a life onto its own. When we recorded to the animation, that made it much clearer."

So when she did see the character, what did she think of Carol Ferris?

"She's hot!" Shields said with a laugh. "I wish I could cut my hair like hers. I just love her. And I love that pencil skirt that she's wearing, too."

Not having seen the physical look of Carol Ferris until nine months into the project, Shields says she was initially attracted to the character's strong sensibilities and absolute determination to succeed in what-was-then a man's world.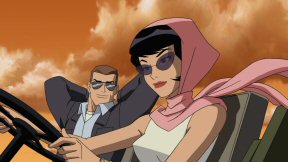 But we know who's really in the driver's seat...

"I think the thing that I responded to with Carol, as a character, is that, if you think about the 1950s, people were not sympathetic towards women in any position other than the very traditional homemaker – and here's Carol, this revolutionary woman for that period of time," Shields said. "There's a strength in Carol – she's not willing to lose her sexuality by being in a man's world, and she's determined to be respected for having the same intelligence and ability to stay on course, and be par for the course, with the men that she's surrounded by. I admire her character from that perspective for that period of time, and I would admire her in this day and age."

As a mother of two, Shields was also attracted to working in the animation genre for the sake of her children.

"There's an added joy to acting when you envision your children watching something and being engaged by it, and having that something be mommy," Shields said. "You're always trying to be cool in your kids' eyes, even when they're young. To me, I have much more of a connection to do that sort of thing."

Shields is proud of her work on "Justice League: The New Frontier," but she also openly acknowledges that she played a small role in the much bigger picture of bringing this film to fruition.

"I always appreciate how seriously this is all taken – there's such a commitment on everyone's part," she said. "It's not just a cartoon – it's very real. It's a very, very dedicated, smart, hard job that these people do. I'm so impressed by it. It's all these things you don't get to see that make these films great. It goes way beyond the voice actors – the people that make these animated (films) are just complete geniuses."

Hey, Brooke -- we agree!