Comic-Con 2011:
Behind The Flaming Tower Of Warner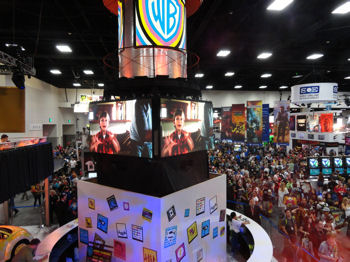 Wakko, Yakko and Dot are having a Rave...
Firmly ensconced near the East End of the Exhibition Hall, the Warner Entertainment booth -- nay, compound -- with its iconic tower, has always been a must stop and see.
Now the water tower is more colorful than even in the days when the Animaniacs lived in it, and lines snake through the area for freebies, autographs from the casts of favorite shows and the chance to play Warner Entertainment's latest video games.
This year, the exhibit added something new -- flames! It's all just an illusion, but an effectively eye-catching one on a floor increasingly crowded with other exhibitors trying to rise above the crowd. So when Warner Entertainment offered us the chance to stand behind the flames, take a few pictures and talk to Chief Marketing Officer of the Warner Television Group Lisa Gregorian, it seemed a way to get a new perspective on the Con, the crowd and the endearingly crazy.
Derek McCaw: What's with the ring of fire?
Lisa Gregorian: We wanted something really interesting for the booth, an aesthetic piece. And we talked about different things we could do and came up with the fire. From below, it looks really, really amazing.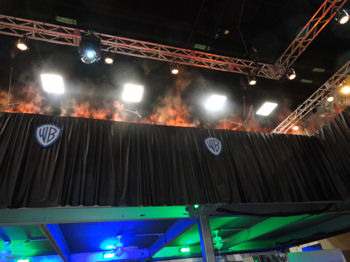 This set is on fire...
Derek McCaw: It does. What are you looking for when choosing what's going to come out here to Comic-Con to the booth and to present to the fans?
Lisa Gregorian: The television group takes the lead in getting all of the divisions of the company together for the booth at Comic-Con. Somebody has to pull it all together, and it falls to us. We have a lot of meetings with the different divisions talking about what their priorities are. In the case of Warner Brothers Interactive, it was Batman: Arkham City.
Batman: Arkham City is here, but it was at E3. So if you were at E3 you may have seen it there, but this is the first time that as a fan you'll be able to play it. It hasn't been available to the public.
So that was a huge, huge initiative for them. And then they have secondary initiatives like Harry Potter Lego, Lord of the Rings: War of the North, Bastion and other projects they've brought down.
When it comes to television, the timing for us is that in May is the upfronts. That's when we find out what shows have been renewed and what new shows have been picked up. We sit down and figure out from those shows which ones make sense for Comic-Con.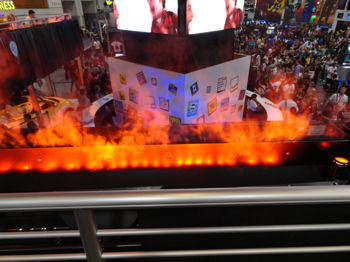 A rare shot of the backside of fire...
If we've brought a show before we always bring it back. We don't come down here for a one-off, sort of like get promotion and not come back the next year. We consider ourselves part of the community, and we really look at this as a dialogue that we have, we are committed to it. We are committed to being members, and we don't just take advantage and then run away.
Derek McCaw: That gives you a short turnaround, if the upfronts are in May. You only have two months to get ready for July.
Lisa Gregorian: We're planning. You know, a lot of stuff, unfortunately, ends up on the cutting room floor. We prepare for things that won't necessarily get picked up. There are bags that are printed – we printed 140,000 bags that were given to the Con, but there are 40,000 other bags that didn't make it.
Derek McCaw: What are the highlights for television at Con this year?
Lisa Gregorian: For television? I'd say we're really excited that the cast of (The) Big Bang (Theory) has come back, the cast and producers. They've just got nominated for the first time for an Emmy award, they're launching five days a week in syndication in the Fall, there's a lot going on with Big Bang, so we're really excited about it. They're launching on TBS.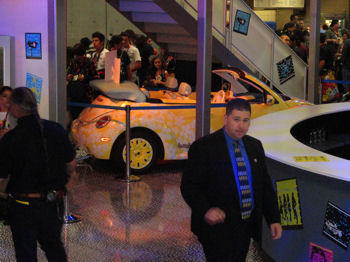 ...and, of course, the Tweety car. Who won that, anyway?
It's a lot of activity. So the fact that they were able, with all of their schedules, to come down and make this happen is a big deal.
We have the Fringe cast. Personally, I'm a huge Fringe fan so that was great. We have The Vampire Diaries, there's a real fan base for that here at Comic-Con. We've got some new shows. We've got Alcatraz from J. J. Abrams, which is going to be on Fox. We're bringing Persons of Interest and Secret Circle, which is going to be on the CW. We have sixteen shows, and that's just live action.
We've got animated shows as well, like Green Lantern, Looney Tunes and Scooby Doo. And Batman: Year One.
Derek McCaw: The thing that seems to be missing is the movie division.
Lisa Gregorian: Tonight they've got Final Destination. There's a party and a screening for Final Destination 5. They're not doing a panel in Hall H, but they are bringing Final Destination.
Derek McCaw: A lot of fans ahead of time were concerned about no Dark Knight Rises, no Superman: Man of Steel…
Lisa Gregorian: Because they weren't ready to show footage from the films. They really have to feel that they're bringing something to the Con that is going to be something that's worthwhile.
Derek McCaw: What is it about the Con that you love the most?
Lisa Gregorian: It's about people that are gathering together because they have a love of our pop culture. We don't believe that everything belongs here; we don't bring every show. But certainly it's about fandom, and fandom is a really amazing, intoxicating part of being in marketing for television and entertainment overall.
We thank Lisa for her time, and the bottle of water. It gets hot behind the fire.