Comic-Con 2010:
A Mighty Wind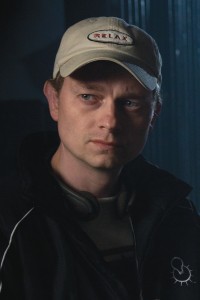 Writer/Director Ray Griggs
Back at WonderCon 2009, Lon Lopez and Derek McCaw met up with a filmmaker named Ray Griggs, there promoting an upcoming superhero parody/love letter called SuperCapers. A relatively young director betting the farm on his career, Ray impressed us with his earnestness and obvious passion for filmmaking.
SuperCapers never made it to the Bay Area, but it was a great pleasure to see Ray's name attached to an intriguing project. New Zealand special effects house (and maker of fine film collectibles) Weta was producing its own adaptation of Kenneth Grahame's The Wind in the Willows, and there was Ray's name as writer and director.
At Comic-Con, we sent freelance journalist Lyz Reblin to talk to Ray and Richard Taylor, one of Weta's founders and a five-time Academy Award winner for visual effects. Taylor was only able to spare Lyz a moment or two, but we're just glad that she got some insight into this cool project based on a classic children's novel.
Ray had also been scheduled to expand his short film Lucifer into a full-length feature, and so Lyz begins there...
LYZ REBLIN: How is your personal project, Lucifer, going?
RAY GRIGGS: That is shelved temporarily. As an independent guy you have to climb the ropes and with Lucifer, working with Weta, breaking that down it has more visual effects than King Kong so it has a tremendous amount of budget. So that means to do it right I have to wait for the technology to catch up with what I want to do in this film.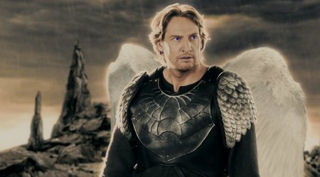 A still from the short film version of Lucifer...
LYZ REBLIN:
Like Star Wars, where George Lucas had to wait to do Episode 1?
RAY GRIGGS: Exactly. Some of the things I want to do have never been achieved before on camera, amazing as that sounds.
I've had to put it off for a little bit, and in the meantime been building my career and doing other projects till I get back to that.
LYZ REBLIN: Is that how you got together with Richard Taylor, through Lucifer?
RAY GRIGGS: It is. I started with Weta digital about five years ago with Lucifer. They were amazing people, really great, friendly, hardworking. Their imaginations are like a bunch of kids running around. It's really a treat to work with them.
LYZ REBLIN: Why remake Wind in the Willows, when it has been done so many times?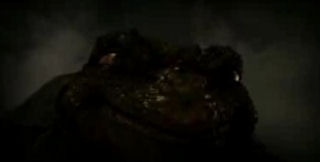 All we've seen of Toad...

RAY GRIGGS: Everybody has had a unique way of making it. But I don't think anyone has attempted to do it to the level that we are doing it. As you know there was a cartoon version by Disney, but that was a short. Then there was a claymation one for TV. Terry Gilliam did one for TV as well where everyone (Toad) is just painted green. This one is dealing with animatronics, live action. So it's really going to open up the world, make it epic.

LYZ REBLIN: What was your first introduction to Wind in the Willows?

RAY GRIGGS: I was eight years old, over in Germany; I grew up in there. I read this story and I walked away loving the story but had tons of questions. So that was my inspiration when taking a stab at the script, answering some of these questions in the book and making sense of it all and enjoying the beauty of the Edwardian era that this story holds.

LYZ REBLIN: What's the tone you're going for with this film?

RAY GRIGGS: It's definitely both for kids and adults.

One of the things we did in a test short was we did one of the most advanced animatronics out there. It had 58 servos in the head alone, gears and motors to make the head turn. There's puppetry like Where the Wild Things Are.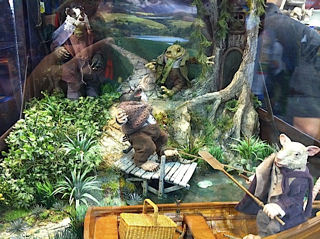 Weta debuted character designs at Comic-Con
in the Dark Horse Booth.

The challenge you have with animatronics is you have a lot of trouble on sets. Servos are breaking down and all sorts of things. But it creates a different look than you see today.

Everybody is so accustomed to digital animation that when you see these characters on screen you feel the weight these characters have. Now CG animation is good for some films, like in Avatar, that's just epic and beautiful in its own way. But I think there is a beauty of taking an old technology like animatronics.

Take Return of the Jedi, it holds up really well today and that's all animatronics and models. So same thing, you just take that same technology, update it for today, and create a film like the Wind in the Willows.

LYZ REBLIN: So why did you choose to do Wind in the Willows now? You read it when you were eight years old, what inspired you now?

RAY GRIGGS: I was kind of in between projects, trying to find something to do. I just happened to start this thing and everything seemed to stumble and snowball, and I was able to get it off the ground.

I am just trying to make a mark in the industry. What movie is going to be my breakout film, so I I can eventually do something like Lucifer?

LYZ REBLIN: You wrote this as well?

RAY GRIGGS: Yes, I did.

LYZ REBLIN: What's your process when you're writing?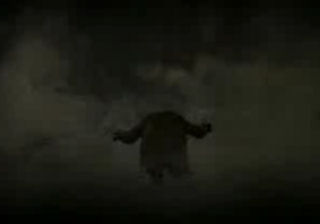 Toad running away...

RAY GRIGGS: I have a funny process. I like to surround myself in my room with ocean music or whatever is on the subject matter I'm working on. For Wind in the Willows I had a lot of forest music in there and eerie sounds. It helps develop and inspire me by the wild woods, the creepy and dark part of the story. I just use different sound effects to get me into that environment.

LYZ REBLIN: What was the biggest difficulty in adapting the book?

RAY GRIGGS: Deciding what is the arc that people like to look for in cinema. The beauty of Wind in the Willows is that it was written by Kenneth Graham and he did such a wonderful job at that. I was actually surprised most studios hadn't done this yet, because it had every aspect of Alice in Wonderland or Tolkien's Lord of the Rings or Narnia.

It has this great rich epic story, a lot of action and everything else involved. Because Toad is the wind in the willows, he's disrupting this perfect place. For me, it's like what is going to grab the people and how are we going to take this story and arc it and have people walk away with something and have morals to it.

LYZ REBLIN: Who's your favorite character from Wind in the Willows?

RAY GRIGGS: I have to say Mole. Mole lived like a hermit. And if you remember from the book, he burrows out of his hole and all of a sudden he's this little tiny child where everything is new to him, full of excitement. I tend to relate to him. I can see myself just loving the industry and everything is new and exciting.

(Richard Taylor has a free moment...)

LYZ REBLIN: So tell us your side of how you two got together, Mr. Taylor?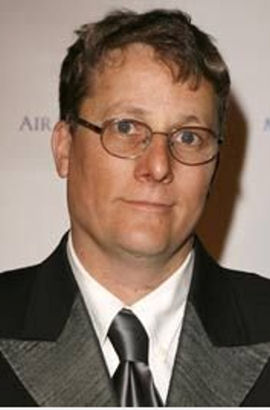 Richard Taylor

RICHARD TAYLOR: Well, Griggs kindly wrote to us when he was trying to get a feature film off the ground and asked us if we would do a budget on it, which we did. That got us talking. Unfortunately that one didn't happen, but he said next time I get something off the ground I'll come back to you. And that's exactly what he did now.

LYZ REBLIN: Why animatronics over digital?

RAY GRIGGS: I wanted to tell the story in a unique way. Today's society you just naturally go to digital. I don't have a massive $150 million studio budget to pull something off, so I have to be creative in how I do it to keep within the budget.

Artistically, because it's such an epic story and old-fashioned, I felt that this was one way of doing it that hasn't been done before. Let's give something new to the audience that has a uniqueness of its own.

LYZ REBLIN: Which film has been the biggest challenge for Weta?

RICHARD TAYLOR: I'd hate to call it a problem; it's more a creative challenge. That's exactly what we want from jobs. Technical and artistic challenges that push you to the limits of your capabilities and hopefully you deliver something.

Every new film progressively has more intriguing challenges on it because even the smaller budget pieces we do, because we never want to do something we've done before, we're always trying to push.

This one will be the hardest we have done on the animatronics level and we will test ourselves to the limit on it. And all going well, will fulfill Ray's expectations.

And now we have our expectations -- looking forward to The Wind in the Willows in 2012!

- Lyz Reblin