Ed Asner Stands For Goodness
Returning as Granny Goodness, in Superman/Batman: Apocalypse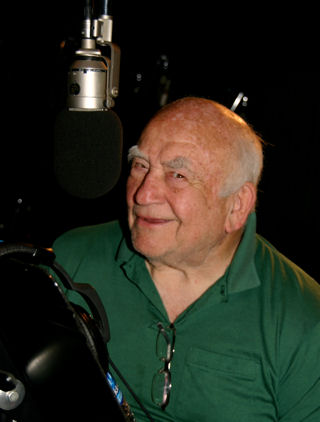 He loves you. Remember that.
Seven-time Emmy Award winner Ed Asner (Up) reprises his Superman: The Animated Series/Justice League role as Granny Goodness in Superman/Batman: Apocalypse, the ninth entry in the popular, ongoing series of DC Universe Animated Original PG-13 Movies coming September 28, 2010 from Warner Premiere, DC Entertainment, Warner Bros. Animation and Warner Home Video.
Granny Goodness is the primary henchwoman for the evil lord Darkseid, ruler of the distant planet Apokolips and a cruel, ominous being even more powerful than Superman. Asner first voiced the role for four episodes of Superman: The Animated Series, and returned to those evil female roots for two episodes of Justice League and Justice League Unlimited.
Asner's storied career boasts seven Emmy Awards – three supporting actor honors for his role as Lou Grant on The Mary Tyler Moore Show, two more as the title character in Lou Grant, and a pair of awards recognizing individual supporting performances in the landmark miniseries Roots and Rich Man, Poor Man. He has won more acting Emmys than any other performer, and is the only actor to ever win Emmy Awards for playing the same character in both a comedy and a drama.
The five-time Golden Globe winner also served as President of the Screen Actors Guild from 1981-1985.
Live-action accolades aside, Asner has been ever-present in animation for nearly 25 years, running the gamut from guest spots on shows like Animaniacs, The Simpsons, Family Guy, Johnny Bravo, King of the Hill, The Boondocks and Hercules (to name but a few) to regular roles in Gargoyles, Freakazoid, Batman: The Animated Series, Spider-Man and Captain Planet and the Planeteers. He also voiced the role of Santa Claus in the animated television special Olive the Other Reindeer (he's played Santa Claus for four different film/TV productions).
Asner's stirring, funny, wonderful portrayal of Carl Fredrickson in Disney/Pixar's Up had critics wondering why the Academy of Motion Picture Arts & Sciences had yet to add a voice acting category to the Academy Awards slate.
Asner, who turns 81 this November, had a few short minutes to answer questions following his latest recording session as Granny Goodness. Take note … or Granny will know.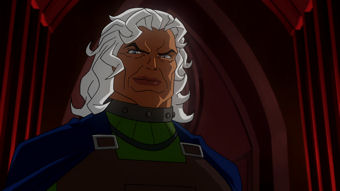 "...she'd have more balls than any of them."
GARY MIEREANU:
How does Granny Goodness compare to playing other female characters?
ED ASNER: I don't think I have played any other female characters before (he laughs). But if I did, she'd have more balls than any of them
It's become the fashion lately – there's Brian Bedford in Stratford doing Lady Bracknell in Oscar Wilde's play (The Importance of Being Earnest). What hasn't been done enough is women playing men in as butch a manner as possible. That's got to be even more fun. I'm talking somebody like Marjorie Main pulling it off.
GARY MIEREANU: What do you use as a focal point while voicing Granny?
ED ASNER: I'm thinking she's a lot of chest, a lot of high pressure steam, and that she's probably got a constant focus on vengeance and wreaking havoc on whoever she can. And I want to get away with as much damage as I can in as high-flown an effeminate form as possible.
GARY MIEREANU: You've done it all and had long-lasting success in the entertainment industry. What's the enticement of voice acting for you?
ED ASNER: It's always a trip -- a joyful trip -- to come into the studio, and especially working with this group. Andrea (Romano) is a delight to work with, and Bruce (Timm) knows this genre better than anybody.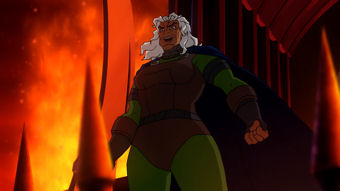 "I'm thinking she's a lot of chest, a lot of high pressure steam..."

Plus, it's the ability to let your imagination take flight – to take chances, to plunge and to soar. That's something you don't get to do as an actor. You get to do it as a kid. So I grab the opportunity as often as I can.

GARY MIEREANU: With all the animation work you've done, and the huge success of Up, can we assume you see animated films and television as a viable source of entertainment.

ED ASNER: I've always loved cartoons – I watched them when I was young, I still watch them now. And it is interesting to see how much more adult they've gotten in terms of content, from these super hero pieces with their violence and more adult themes to the truly mature, fully-developed stories developed in films like Up and Wall-E. Today's animation goes places cartoons didn't used to go.

GARY MIEREANU: How do you feel about spunk?

ED ASNER: That all depends on who's got it.

Asner joins a Superman/Batman: Apocalypse cast led by fan favorites Tim Daly (Private Practice) and Kevin Conroy (China Beach) reprising their seminal roles as Superman and Batman, respectively. Also featured among the celebrity-laden guest cast is Andre Braugher (Men of a Certain Age) as the daunting Darkseid, and sci-fi heroine Summer Glau (Serenity/Firefly, Terminator: The Sarah Connor Chronicles).

Based on the DC Comics series/graphic novel "Superman/Batman: Supergirl" by Jeph Loeb, Michael Turner & Peter Steigerwald, Superman/Batman: Apocalypse is produced by animation legend Bruce Timm and directed by Lauren Montgomery (Justice League: Crisis on Two Earths) from a script by Academy Award-nominated screenwriter Tab Murphy (Gorillas in the Mist).

For more information please go to SupermanBatmanApocalypse.com