Love Song For Ray Bradbury
(Video NSFW)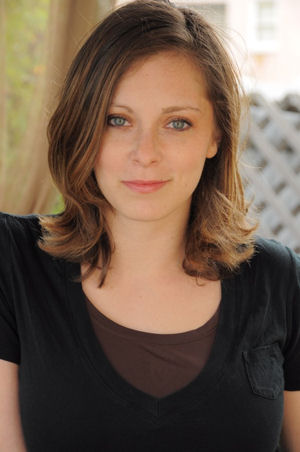 And hey, she writes for Robot Chicken!
Editor's note: In 2010, writer/actress/comedian Rachel Bloom became a nerdgirl QUEEN for her music video, "F*** Me Ray Bradbury."
When Bradbury passed away a couple of weeks ago, we asked her if she would write a tribute, and to our extreme gratitude, she agreed! The following is a little look behind the scenes at the NSFW video.
It was summer of 2008 and I'd just gone through my 5,000th heartbreak involving another sociopath in nerd's clothing. I'm in my parents' house and, to escape my depression, I am re-reading my favorite book of all time, The Martian Chronicles
by Ray Bradbury.
As with any Ray Bradbury book, I'm enthralled by his use of high concepts to explore grounded emotions and relationships. He writes with the sharp love of big ideas that I crave in my boyfriends, but he also writes with sensitivity that I've never gotten out of said boyfriends. This was the ideal man I was looking for and would probably never find.
So, having decided that I wanted to be writing more music (previously I'd just been a musical theater lyricist), I started to plunk out a love song on my parents' piano. On Microsoft Word I called the file, "Ray Bradbury Love Song."
Now, it's summer 2010 and my friend Greg walks into the classroom of a former Catholic school in Brooklyn. All he's been told that I need him to be an extra in a music video I'm shooting. He walks in and sees a bunch of girls dancing in schoolgirl outfits as I hump a desk in front of the words "Fuck Me, Ray Bradbury" written on a chalkboard.
"What IS this?!" Greg asks. "Pizza's in the other room!" I say as I continue to hump the desk. "After you're done, get into your schoolboy jacket and don't wear a shirt underneath!"
Two hours later, Greg and I are taking a quick break as a PA cleans up the sweaty glitter on the floor. "What would you do if Ray Bradbury saw this?" he asks. I think about this and then say, "Dude, I'd be like, 'whoa.'"
Three months later, I was totally like "whoa" as I'm walking into Ray Bradbury's personal office to meet him. As I walk up the steps, I can't believe that a silly and salacious comedy video I made in Brooklyn has somehow struck a chord with book lovers who, like me, felt that pop music's portrayal of love didn't represent everyone. And because of that, the video went viral and completely changed the course of my career.
The whole time I talk to Ray, we barely discuss my music video. The fact that an idea I had two years ago could somehow lead to me talking to my favorite author was all the praise I needed.
Rest in Peace, Ray Bradbury. Thanks for seeing beyond the video's jokes about oral sex to the honesty deep within.
Also, sorry I cut your part, Greg.