Days of Wonder, Nights of Peach Cobbler

Getting bigger all the time...

For weeks on its website, WonderCon touted a growth spurt, and it looks like no idle boast. Last year, the first day of the venerable Bay Area convention seemed rather quiet. This year, however, felt a bit larger and a bit louder, and that can only be a good thing.

There was still time to have a few good moments of conversations with creators and publishers, and indeed, it seemed like more talent has made a commitment to be here for the whole weekend. Local guys like Judd Winick and Ed Brubaker would be a no-brainer, but it was a nice surprise to see talent like Harvey Pekar and Kyle Baker make the trip.

For those in the area that don't want to hassle with parking, let us recommend the Fanboy Planet method: take BART, the local rapid transit system. The magic began for us as we exited the Powell Street station in San Francisco, to the lilting strains of a Celtic Harpist playing "Ain't Misbehavin'" in the lobby.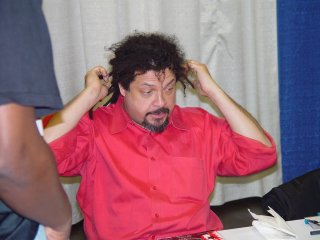 Kyle Baker, with Plastic Man disguised as Baker's shirt...

A few blocks over and past the siren call of the Sony Metreon, we ventured into the George Moscone Convention Center, descending into its depths to a little slice of geekdom.

Once again, Marvel has no presence, but DC has represented itself well, setting up a decent-sized booth for signings and loaded down with black and white preview copies of upcoming titles. They have a good schedule as well. In addition to Winick and Brubaker, DC has talent such as Howard Chaykin and Darwyn Cooke.

Though we did not speak to him, it appeared that Jeph Loeb had not moved from the café table where we left him last year. We'll check back on him tomorrow.

Among the smaller publishers here are the local Slave Labor Graphics, with a booth almost as large as they have at ComicCon. IDW has a prime spot near the entrance, and well they should catch the eye as they have been doing extremely well with their horror comics (just sold out Dawn of the Dead officially, but I think I saw a couple of copies at the booth) and television adaptations.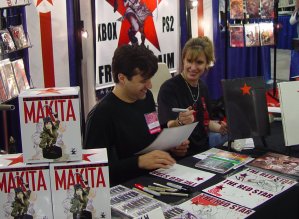 Gossett amidst his capitalist dreams...

Team Red Star has also shown up, gearing up for a fall release for The Red Star videogame. Creator Christian Gossett stayed pretty busy doing sketches, but agreed to set us up with some interview time later to talk about his work adapting book to game.

Also worth mentioning is CFQ, whose CEO and publisher, Mark A. Altman, will be bringing his friends for an all-out geekfest on Sunday. Yes, Starship Smackdown returns, as a group of Hollywood players and fans imagine what it would be like, among other things, if the Enterprise took on Battlestar Galactica. There's more to it than that, but at some point we have to pretend we really don't understand, mainly because our wives won't put up with it. Mark did mention that he's gearing up for production on House of the Dead 2 (the film, not just playing the game).

We attended the Wildstorm panel, largely because the critically-acclaimed Jim Lee imprint is one we feel we've ignored over the last few months. Despite fan outcry over recent cancellations of Wildcats 3.0 and Stormwatch: Team Achilles (variations on what were once their flagship books), the DC-owned imprint has a pretty impressive line-up coming, including Brubaker taking over The Authority in October. He can't tell us yet who will be the artist, but he did let slip (to his editor's chagrin) that Grifter from Wildcats 3.0 will be appearing in Sleeper, Season Two.

Just to see if we can stir up some crap, Brubaker also mentioned that Mark Millar is a tiny man, and that he believes he can take the guy down.

But talking about the big guns isn't the best part of attending a convention. (It's fun, but it's not the best.) Discovering small press and up-and-coming creators really make the day. Unfortunately for us, Chris Garcia isn't attending this year, and he tends to have a better eye for the small press. There are, however, quite a lot here.

My personal fave, Keith Knight, is back with his collection and a recent nomination for a California Music Award. It's for his band, The Marginal Prophets, and Keith has copies of their CD for sale in addition to his comic strip collections. Check him out; he is one seriously funny cartoonist. I cannot speak for his music, because I am terminally unhip.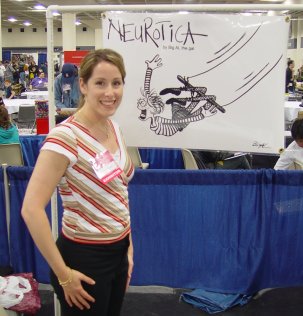 Big Al. We still don't accept that name.

An artist that Garcia has consistently praised, Big Al The Gal, who is not big but is indeed a gal, has several copies of her two Neurotica collections. She behaved charmingly and politely when faced with the buffoons of Fanboy Planet, even going so far as to call us "fanmen." We've arrived.

One small publisher with out of the gate ambitions is NPC. Please don't ask us what that stands for yet, because we forgot. But we will be returning to talk to them tomorrow. Based out of Oakland, NPC has plans for several titles, some in a shared universe, some not. Sure, we've heard it before (hello, CrossGen), but with creators as enthusiastic as these guys, you have to hope they can make it work. We'll be covering their books as they get closer to release, but we can say that from the sample pages they had today, the art is amazingly solid to be coming from unknowns.

After making the rounds and seeing that Jeph Loeb had moved, we headed back to the home office to recharge for tomorrow, when Hollywood comes to WonderCon.