Wanted Changes Release Date
(and actually, it's a good thing)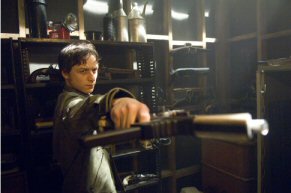 James McAvoy as Wesley in Wanted...

Universal Pictures made a bold move today, changing the release date of Wanted from March 28 to Friday, June 27. Though often a change signifies "needing more time to tinker," the film adaptation of Mark Millar and J. G. Jones' graphic novel has just gotten a huge shot of confidence from the studio.

Clearly, Universal thinks of this as a tentpole, which its earlier date did not indicate. They're going to put it smack dab in the middle between Iron Man and The Dark Knight releases, which means they must be excited about director Timur Bekmambetov's work.

The press release quotes Nikki Rocco, Universal's President of Distribution, "After an early look at Wanted, we are certain that it fulfills its promise as a stunning, committed, thrilling, eye-popping vision that introduces a bold new narrative. We believe it can stand shoulder-to-shoulder with the event titles of the summer and will give audiences a chance to discover a fresh new alternative. We are excited to date the film on June 27."

Though the film seems to change Wesley's family affiliation to a group of anti-heroes instead of the out and out supervillains they are in the graphic novel, all accounts sound like we'll still be pleased with the tone and plot. In addition to James McAvoy playing a hapless Wesley Gibson, the film features Morgan Freeman and Angelina Jolie.