Start Saving For Father's Day Now...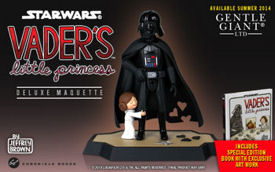 For whatever reason, something has kept me from buying Jeff Brown's admittedly ridiculously cute children's books set in the Star Wars universe. Gentle Giant and Chronicle Books have just told me why.
Because in time for Father's Day 2014, they will release deluxe editions of Vader's Little Princess and Vader and Son that will include the maquettes that seriously, I need on my desk. Looking at these, I mysteriously find midichlorians clouding both my eyes...
The limited special edition of each will include a hand-numbered cold-cast Polystone maquette, 16 black-and-white sketches never before released, and a new color print in a vellum sleeve. All that, of course, and the actual book.
From Gentle Giant about Vader and Son and Vader's Little Princess:
Celebrated artist Jeffrey Brown's delightful illustrations give classic Star Wars® moments a fresh twist, presenting the trials and joys of parenting through the lens of a galaxy far, far away. Life lessons include lightsaber batting practice, using the Force to raid the cookie jar, Take Your Child to Work Day on the Death Star ("Er, he looks just like you, Lord Vader!"), and the special bond shared between any father and son.
Vader and Son can be pre-ordered from Gentle Giant here.
Vader's Little Princess can be pre-ordered from Gentle Giant here.