Team Unicorn: "For the Win"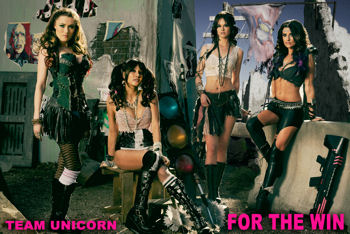 We've talked about Team Unicorn before on Fanboy Planet, and featured their videos in the past. Consisting of four women (Michele Boyd, Clare Grant, Milynn Sarley & Rileah Vanderbilt) who gathered over their love of all things geek, they have occasionally been directed by our good friend Sean Becker.
The following video, which also features cameos from Aisha Tyler and Weird Al Yankovic, is their first music video. Call it the birth of Geek Pop (G-Pop?), because the song's lyrics are a simple celebration of loving the geek lifestyle, and the video, directed by Dave Yarvo (probably because Sean is busy on Holliston), is just... wow. Everything you could ask for, plus cosplay for the sheer joy of it.
Watch and tell me I'm wrong. It's sheer joy.