Take a Flight Into Fear at Magic Mountain...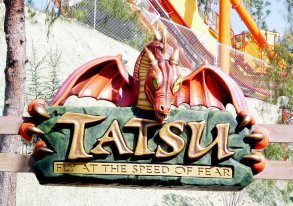 He gets friendlier...

Part myth. Part metal. All an attempt to get you to visit Six Flags Magic Mountain in Valencia, California, this summer, the new roller coaster Tatsu invites everyone to take a flight into fear.

Let's admit that "fear" might not be the right response to a roller coaster. Excitement, definitely, and Tatsu delivers on that. Billed as the tallest, fastest and longest flying coaster in the world, this orange and red behemoth will open to the public on Saturday, May 13. Along with a thousand coaster enthusiasts that spent the night waiting for the chance, Fanboy Planet got to ride it this morning.

How could we pass up this chance? One of Six Flags' other "flying coasters" comes right out and bears the name "Superman," and yes, this style of thrill ride is the closest any of us will come to knowing how it feels to be the Man of Steel.

Custom-built for Magic Mountain, the ride takes a 170 foot lift to a 263 foot drop. The secret lies in the name of the park - Tatsu is built on what Six Flags has dubbed "Samurai Summit," the top of a literal mountain festooned with thrill rides. Technically, Magic Mountain has rides that go faster - "Superman: The Escape" being one of them at more than 100 miles an hour - but the upwards of 62 miles an hour that Tatsu achieves is plenty fast enough through the loops and spins. You want to enjoy the sensation of flying before blacking out.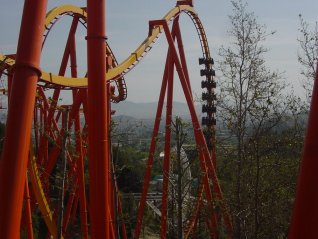 When you're on it, that's one heck of a loop...

This morning's event was a little out of the ordinary, as the ride loaded slowly in order for local news affiliates to get the best camera angles. Once riders have been strapped in to a very secure and thankfully very padded harness, the seats tilt forward ninety degrees, the better to stare at the concrete flooring.

Which brings up the difficult question: where exactly to look? To my left, a woman who had already been on Tatsu several times since they started running the event at 1 a.m. suggested that looking straight ahead provided the best experience. That way, she reasoned, it really feels like flying.

On the other hand, looking down has it's the advantage of seeing exactly how fast the earth travels beneath you as it falls away.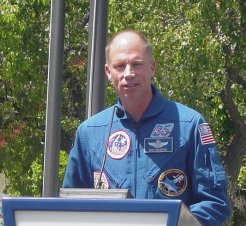 When it comes to G-Forces, he ought to know...

To officially kick off the ride, park management held a small ceremony at the foot of the mountain. With Tatsu looming above, taiko drummers performed a short number to catch everyone's attention. Then General Manager and Vice President Del Holland gave a short overview of Tatsu, acknowledging several guests of honor before introducing Six Flags CEO Mark Shapiro.

Shapiro gave an impassioned speech stressing Six Flags Inc. renewed commitment to family entertainment. Though the park chain and Magic Mountain in particular have been renowned for their roller coasters (self-proclaimed "greatest in the world" - but no one seems to be arguing), the company wants to acknowledge their more well-rounded strengths.

In addition to launching Tatsu, the park has also looked at creating better stage shows, bringing in the Chinese Acrobats of Hunan, Magician Ray Pierce and revisiting the Batman Begins stunt show, which last year gained a reputation as being the tops of its kind.

Readers of this site should be most intrigued by the official introduction of the Justice League as characters in the park. Mostly hanging out by Gotham City, they finally prove that Warner Brothers has figured out how to utilize them for full-scale branding. Some of us might feel twinges of bitter irony as the Cartoon Network versions seem most prevalent just as the network cancelled the show.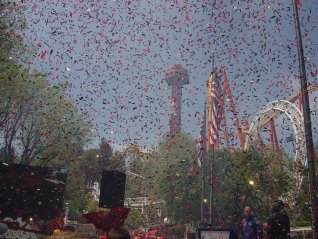 Tatsu opens with a bang.

After Shapiro's speech, Holland introduced former Shuttle astronaut Colonel Richard Searfoss, who gave Tatsu the thumbs up.

Then the first official ride played on a screen to our left - a live shot with a camera on the riders so we could see their reactions. Behind the screen, of course, was the actual ride, and it was almost surreal to see them in close-up and miniature in the distance at the same time. Most of the riders were air force personnel from a local base, but various cast members from Nickelodeon shows and Disney's High School Musical rode behind the military.

As they flew off into the ether, fireworks crackled and cannons boomed, filling the air with confetti. Tatsu was officially open, though again, the general public won't get its chance until Saturday. Check out further details for Tatsu and any and all Six Flags parks at their website.

A special thanks to Six Flags for including us in the event, and an open call to Disney -- hello?