IT'S TRUE! SPIDER-MAN IN THE MCU!!!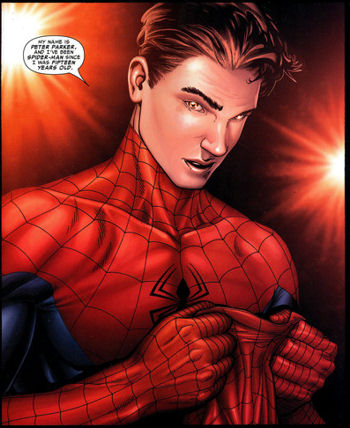 Move over Kim Kardashian's rear end (no, not Kanye West, Kim's actual butt) - THIS is how you break the internet!
Apparently Marvel's site has been crashing for a little while since this news dropped. Marvel Studios and Sony Pictures have somehow worked out an agreement to share control of cinematic universe Spider-Man!!!
There aren't enough exclamation points!!!
What does it mean?!?
Well, until it's either spelled out for us or we see the movies, we don't know other than the fact that Spider-Man will cross over with a Marvel film and then have his own solo film on July 28, 2017. There is also apparently some exploration of other Marvel characters crossing over into Spider-Man films, which would only make sense if Spider-Man is really going to be integrated into the MCU.
As you might have suspected, this also means that some release dates of previously announced Marvel films are getting shifted around. Thor: Ragnarok will now be released November 3, 2017. Black Panther arrives July 6, 2018, Captain Marvel on November 2, 2018, and Inhumans on July 12, 2019. The Avengers films release dates remain unchanged.
It should be noted that the the press release refers to a "new Spider-Man" - does that mean they're just re-casting Andrew Garfield or will we be getting Ultimate Spider-Man, Miles Morales?
Again, we probably won't know anything at least until shooting starts on Cap 3: Civil War. At least we don't have to worry about Marvel Comics cancelling Spider-Man like they're doing to Fantastic Four due to Fox's ineptitude...
This is... Spectacular. (Because Amazing was already taken).
From Marvel:
Sony Pictures Entertainment and Marvel Studios announced today that Sony is bringing Marvel into the amazing world of Spider-Man.
Under the deal, the new Spider-Man will first appear in a Marvel film from Marvel's Cinematic Universe (MCU). Sony Pictures will thereafter release the next installment of its $4 billion Spider-Man franchise, on July 28, 2017, in a film that will be co-produced by Kevin Feige and his expert team at Marvel and Amy Pascal, who oversaw the franchise launch for the studio 13 years ago. Together, they will collaborate on a new creative direction for the web slinger. Sony Pictures will continue to finance, own and have final creative control of the Spider-Man films.
The new relationship follows a decade of speculation among fans about whether Spider-Man -- who has always been an integral and important part of the larger Marvel Universe in the comic books -- could become part of the Marvel Universe on the big screen. Spider-Man has more than 50 years of history in Marvel's world, and with this deal, fans will be able to experience Spider-Man taking his rightful place among other Super Heroes in the MCU.
Bob Iger, Chairman and CEO, The Walt Disney Compnay, said: "Spider-Man is one of Marvel's great characters, beloved around the world. We're thrilled to work with Sony Pictures to bring the iconic web-slinger into the Marvel Cinematic Universe, which opens up fantastic new opportunities for storytelling and franchise building."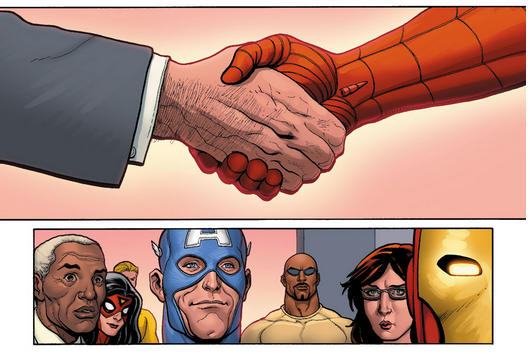 "We always want to collaborate with the best and most successful filmmakers to grow our franchises and develop our characters. Marvel, Kevin Feige, and Amy, who helped orchestrate this deal, are the perfect team to help produce the next chapter of Spider-Man," said Michael Lynton, Chairman and CEO of Sony Pictures Entertainment. "This is the right decision for the franchise, for our business, for Marvel, and for the fans."
"Sony Pictures and Marvel Studios share a love for the characters in the Spider-Man universe and have a long, successful history of working together. This new level of collaboration is the perfect way to take Peter Parker's story into the future," added Doug Belgrad, president, Sony Pictures Entertainment Motion Picture Group.
"I am thrilled to team with my friends at Sony Pictures along with Amy Pascal to produce the next Spider-Man movie," said Marvel Studios President Kevin Feige. "Amy has been deeply involved in the realization on film of one of the world's most beloved characters. Marvel's involvement will hopefully deliver the creative continuity and authenticity that fans demand from the MCU. I am equally excited for the opportunity to have Spider-Man appear in the MCU, something which both we at marvel, and fans alike, have been looking forward to for years."
Spider-Man, embraced all over the world, is the most successful franchise in the history of Sony Pictures, with the five films having taken in more than $4 billion worldwide.
So... Amy Pascal saves face, Marvel gets what it wants (at least partially) and BOOM! Spider-Man IS BACK!!
So tell us on our Facebook page, email or tweet us @FanboyPlanet!