Sparks The iBook!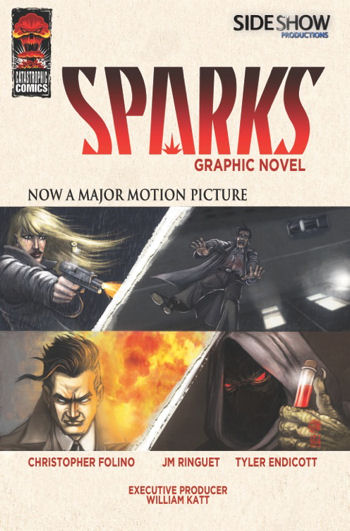 It's the all in one package that proves the digital age is the fanboy age -- with a spark of originality!
Back when the individual issues of Sparks first came out, creator Chris Folino and publisher/actor William Katt pushed the boundaries of comics by producing one of the earliest -- if not the first -- motion comics as an app for iPod and iPhone. It was cutting edge technology then -- and it's time to update to cutting edge now!
Though the complete graphic novel Sparks will be arriving in comics shops in June, Folino and Katt have come a long way. Transferring the gorgeous dark art of JM Ringuet and Tyler Endicott to iBook form, they have created yet another way to experience the superhero noir that is Sparks.
Available for just $6.99 on the iTunes store, the Sparks iBook includes links to video interviews and features new audio commentary from Folino and from Katt, reflecting on the experience of putting comics together and how he ended up playing the most wonderfully evil character of his career for the film adaptation -- the twisted serial killer Dr. Matanza.
Fans of Frank Miller's work, Bedlam and The Boys will enjoy this noir superhero drama that's Sin City meets Smallville with a touch of Watchmen.
The iBook works on an iPad with iBooks 3 or later and iOS 5.1 or later, or a Mac with iBooks 1.0 or later and OS X 10.9 or later.
And if you join the Sparks Facebook page, you can enter for a chance to win some terrific t-shirts -- including one with an image of the Japanese DVD cover...