The Rock Agrees: It's Black Adam!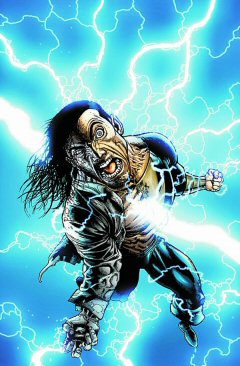 The Rock said the magic word.

In an interview for MTV, Dwayne "The Rock" Johnson has agreed with what the fans have been saying for months -- the role he should play in the upcoming Peter Segal-directed film version of Shazam is not Captain Marvel after all. it's Teth-Adam, aka Black Adam.

After all, bad guys are more fun. Maybe. At any rate, the minute The Rock got mentioned in the same breath as this film adaptation, fans began pestering him that he needed to take the role of Captain Marvel's conflicted arch-enemy instead of the Big Red Cheese himself. Aside from his physical resemblance, the role has to be intriguing because of its complexity. Though initially created as just an opposite number for Captain Marvel, in recent years Black Adam has become a character with some justification for his brutality. Not just a product of another time (and another set of ethics), Black Adam has watched two families die, and there's a reason for the rage in his heart.

You can read MTV's article and watch the interview here.

What does that mean then for the guy we want to play Captain Marvel, Brandon Molale? Brandon responded to our inquiry that we should all just keep our fingers crossed and keep on talking him up for it. If it worked for Dwayne, it could work for him.

We do hope so. However, all of this talk is still up in the air because of the impending WGA strike. Screenwriter John August has not officially turned in his draft of Shazam!, especially since Johnson claimed he was altering it to beef up the role of Black Adam. with the strike, it could be months before we hear anything else of forward movement on this project.

But hey, keep Brandon in your thoughts. Those two going toe-to-toe would be awesome.