Robin Williams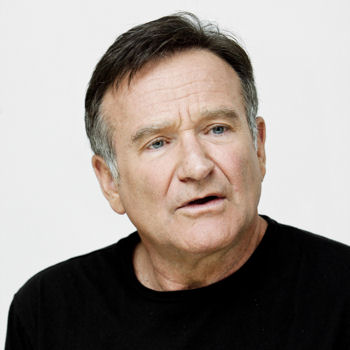 Last week on vacation, my son offered his hand, fingers splayed apart, and said those words -- "Nanu Nanu." Without thinking, I matched the gesture and we shook. I said, "nice to see you, Mork."
He pulled up and asked, "Who?"
For my son, Robin Williams wasn't Mork; he was the Genie. But his influence was so great there's a catch-phrase parents are still passing on to their kids, long after they stopped watching that first sitcom.
People over 30 know what a wild explosion of energy Robin Williams was when he first appeared on, of all things, Happy Days in a one-off episode written to cash in on the Star Wars craze. This strange alien was such a hit producer Garry Marshall tooled a whole show around him, Mork & Mindy, fast-forwarding him twenty years to Boulder, Colorado.
He'd been on TV before, in a brief revival of Laugh-In, after being cut from a raunchy sketch anthology film called Can I Do It 'Til I Need Glasses? (It was re-released with his scenes restored after Mork & Mindy.)
His stand-up was amazing, though some of it might seem quaint now because you've seen so many imitate a little bit of the lightning that was Robin Williams. He was truly an artist, sincere even at his most mawkish -- which, admittedly, he often could be. Yet he was at his best far more often, and in addition to incredible stand-up, he left a body of work with far more hits than misses.
If you're looking for a Robin Williams retrospective, here are a few of his best early appearances that seem to have been forgotten. Looking through Amazon, it's amazing to see how many have been relegated to bargain bin status. Expect that to change.
.
Popeye
Let's pretend this was his big-screen debut. This Robert Altman adaptation of the classic comic strip character is flawed, to be sure, but Williams' performance isn't. The comedian proved he could maintain one personality, and gave humanity to a character who could have just been a living cartoon.
Williams filmed this in between seasons of Mork & Mindy, and on the series, he referenced it, saying that if you played it backwards, it had an ending. Notoriously, Altman ran out of money and sort of cobbled the end together, but it still stands as capturing Elzie Segar's original vision -- and it would not have worked without Robin Williams at its center.
In later years, Williams wanted a chance to play a Batman villain, but it was not to be. (Though one of his best friends was Christopher Reeve, and Williams paid for much of Reeves' medical bills after his accident, and before leaving Juilliard, Williams got a dorm roommate who was a young freshman named Kevin Conroy, who would go on to voice Batman for a generation.)
Instead, he should be honored for playing one of the first superheroes. I yam what I yam, indeed.
The World According To Garp
This adaptation of John Irving's novel proved the comedian could be a serious dramatic actor, though overall it is still pretty whimsical. Williams brought charm and pathos to the life story of T.S. Garp, a wrestling coach to whom life just kept happening, and who only wanted to fly.
George Roy Hill directed Williams in this first dramatic role, and early on in his career, Williams was either blessed or canny enough to work with some great directors (and some underrated) -- Hill, Altman, Paul Mazursky, Peter Weir, and Barry Levinson all played formative roles in making his career take off as a film actor..
For a bonus, this also provided Glenn Close's first major role, and John Lithgow's break-through as transsexual football player Roberta Muldoon. Their chemistry is moving in this forgotten classic, currently only available through Warner Archive, which means that the studio does not think there's enough interest for a full release. That is likely about to change.
Moscow on the Hudson
In this, Williams played a Russian musician who visits New York City with a Soviet circus and defects in Bloomingdale's. He captures the sadness and pain of leaving everything you know behind in order to live in freedom.
The film follows Williams' adventures in acclimatization, through gaining citizenship and a sense of American patriotism, but never soft-pedaling his misery.
At the time considered a lock for at least a nomination as Best Actor, Williams was not nominated though it's a steady, moving performance. Though nominated four times, he would not win until he sported a beard again in Good Will Hunting..
This is another of Williams' early works that's out of print, which is a shame, because it's one of both his and director Paul Mazursky's best.
The Best of Times
How can this be forgotten? Williams co-stars with Kurt Russell (Kurt Russell!) in this feel-good (but restrained) dramedy about a man whose best days are yet to come, but is convinced that they're all behind him.
Russell plays the former high school quarterback who might have gone on to glory, but got over it. In the big game with Bakersfield, he threw a crucial pass to Williams, who bobbled it. One man can move on, the other can't.
As Williams obsesses over his long-ago failure, he hits upon the only scheme that makes sense to him: reunite both teams and play the game over.
Written by Ron Shelton, who would go on to create Bull Durham, White Men Can't Jump and Tin Cup, Williams' role of Jack Dundee is one of his most understated performances, even though it's in a wacky situation. Plus... Kurt Russell.
Good Morning, Vietnam
Barry Levinson directed Williams as Army radio deejay Adrian Cronauer. Ostensibly based on Cronauer's real experiences in the Viet Nam conflict (though there has been much accusation of fictionalization but hey, it's Hollywood), this was the first film that managed to capture the bigger picture of Williams' personality.
Under Levinson's guidance, Williams was able to bring the manic energy of his stand-up to Cronauer's broadcasts while still playing the dramatic role that would give him, in his own mind, legitimacy.
He earned his first Oscar nomination for this, which was followed by a few roles in which he balanced the emotional side with his manic persona -- Dead Poets' Society,
Aladdin
Well, duh.
The third film of the Disney Renaissance, Aladdin would not have worked nearly as well without Williams letting it all loose. Somewhere in the Disney Vaults, there is rumored to be as much as sixteen hours of Robin Williams improvisation in the role.
Also rumored, Williams ad-libbed so much of his part that the Academy would not grant the film a nomination for Best Screenplay, arguing that Williams had made too much of it up.
Perhaps, but as is often the case with awards, Aladdin will be remembered long after the film that did win Best Screenplay that year. (It was Neil Jordan's The Crying Game.)
And Williams was denied a nomination as Best Supporting Actor because it was a voice-over role. But again, he will be remembered by generations for it, so, yeah, Robin, you won.
Weapons of Self Destruction
Williams did small but memorable roles in quite a few films, with a personal favorite being Kenneth Branagh's supernatural noir thriller Dead Again. He returned to work with Branagh in the sprawling William Shakespeare's Hamlet as the courtier Osric, quietly proving again that damn, he could do just about anything.
But if you want to top off a retrospective and consider how vital he was as a performer, you should seek out his last stand-up special. Shot in 2009, Weapons of Self Destruction show a performer recovering from his demons and spilling them out on stage to hilarious effect.
Easy to write off as a wacky comedian, there was an edge to his material and his intelligence that suddenly feels like he's leaving a bigger void than we know. Watch this special, and you will feel how keen his observations were.
It's a tragedy to have this voice stilled.