Jimmy Kimmel Updates Us On The Vision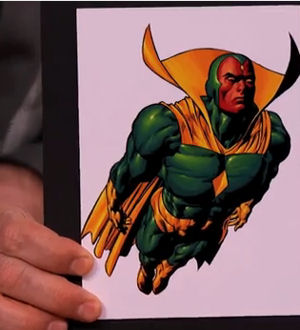 We'd been right on top of this when first announced, that actor Paul Bettany was getting a promotion in the Marvel Cinematic Universe. The man who has voice Jarvis in three Iron Man films and The Avengers would now be donning a costume to become The Vision.
This week on Jimmy Kimmel Live, Bettany sat as a guest to promote next week's Transcendence, but Jimmy helpfully brought up The Vision, and as is de rigeur with talk show appearances of actors in Marvel movies, Bettany evaded questions as best he could, fearing for his life. Yes, Marvel has a close eye on their actors.
Bleeding Cool reports that Bettany has begun filming Avengers: Age of Ultron in London, but that his scenes so far have been set in the 1940s. You know what that means? If you'll check out an early episode of Moron Vs. Fanboy and our original reporting, we reminded you that the body of the Vision HAS appeared on screen before, very briefly in a glass case at Stark Expo on Captain America: The First Avenger.
So it's quite possible that Bettany will also be appearing as the original Human Torch, Jim Hammond. How Hammond got to be Jarvis is a mystery for another time. I can only unravel so much in one sitting...
Here's the clip: