Edward Norton? Incredible...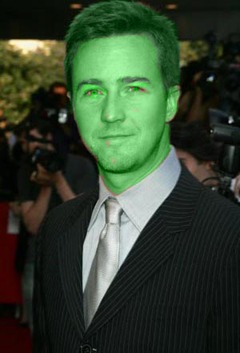 Looking a little green...

The speculation has been rampant. Some might say rampaging. From the moment Marvel announced that they had wrested the sequel rights to Ang Lee's Hulk, fans wondered who would play Bruce Banner and, through the wonders of CG, the jade-jawed giant himself.

Among the actors rumored to have the lock in Incredible Hulk: David Duchovny, Adrien Brody and Matthew Modine.

Lies. All lies.

Instead, Variety confirmed this morning that Oscar-nominee (for Primal Fear) Edward Norton will play Bruce Banner. Belted by gamma rays, he'll turn into the Hulk for French director Louis Leterrier, in a film that had originally been intended as following the comic book a little (okay, a lot) more faithfully than Lee's film had. Nobody's quite saying if it will be considered a sequel or an out and out reboot of the potential franchise.

That might change with the presence of Norton, an actor notorious and/or acclaimed for his on-set rewrites. Then again, he's got pretty good taste, which can be vouched for by projects like last year's The Illusionist and The Painted Veil. Norton has also occasionally been known to let his hair down and embrace the goofy fun of a project, as he did in Death To Smoochy.

We can hope. We can only hope.