Comics:
Piracy Proves Key For CrossGen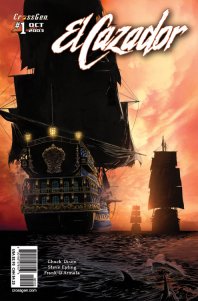 Wreaking havoc on the seas of
the CrossGen universe...

Bill Rosemann over at CrossGen greeted us webmasters with exciting news for the company today.

In the wake of the Big Two constantly trumpeting sell-outs, CrossGen has one of their own -- and they have to go back to press with it.

The first issue of El Cazador, which the company overprinted in the first place, is sold out. CrossGen will reprint it with a brand new cover (see the pic), timed for re-release on October 8th, the same date that the second issue of the Chuck Dixon-penned pirate book will hit the stands.

And why shouldn't it be a success? As we've noted elsewhere, pirates are pretty trendy, and only CrossGen and Black Swan Press have books that capitalize on that newfound interest. (And in the interest of editorial fairness, yes, Dick Swan at Black Swan Press has been a friend for well over a decade -- and I've probably known him longer than that, as he apparently was at least part owner of every single comic book shop I frequented in the Silicon Valley until today's Brian's Books.)

El Cazador has also met with the fabled critical acclaim, so we say "huzzah!" to CrossGen, a company that really needed a strong hit after some troubled weeks in the press. (We'll get to it eventually -- our review copies come late.)

New Covers In A Handful of Dust

There's been a lot of excitement surrounding Neil Gaiman's Sandman of late. Not only do we have Gaiman returning for the one-shot Endless Nights hardcover this month, but original cover artist Dave McKean has redesigned the look of the entire Sandman library.

"The first covers Dave McKean did were wonderful, but they lacked information on what should be read in what order," said Gaiman. "The uniform covers that followed them gave all that information, but weren't as pretty. Dave's new covers are gorgeous and you can tell what order to read them in. And they look like the bestsellers that they consistently are."

The new covers will appear on both the hardcover and softcover editions, as DC takes them back to press. (Yes, just like Harry Potter, Sandman sales are high enough to warrant both editions.) Look for the new look starting with the classic A Doll's House, scheduled for release later this month.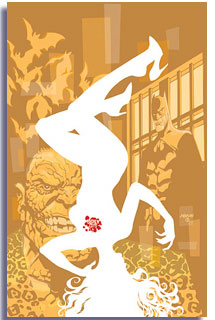 Oh, yes, it's Huggy Croc...
Loeb and Lee Who?
We're imminently about to discover who the secret villain known only as Hush is in the pages of Batman. The twelve-issue run from Jeph Loeb and Jim Lee has brought astounding attention to one of the pillars of the DC Universe. But it's almost over.
Not to worry, because DC has brought in a different pair of big guns, ones that hardcore fans of comics should know and trust ...and wonder just what kind of hell they're going to be putting the Dark Knight through.
Starting with Batman #620, Brian Azzarello and Eduardo Risso, the team behind the deliriously cool 100 Bullets, give Batman his licks.
In an arc called "Broken City," the creative team promise to give us a look at Gotham in a way we've never seen before. Yeah, yeah, you've heard it all before, but this time they might be telling the truth.
All we're really stuck on is the idea of Killer Croc as a street pimp. Anyway, DC has been kind enough to post a four page preview on their website, so follow the link and check it out for yourselves.
Movies: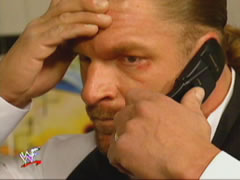 How do they get him to talk?
Smear peanut butter on the roof of his mouth.
If The Rock Can Do It...
Reports have come in that Paul Levesque, better known as Triple H or HHH or, to some of us, hogging bastard of the WWE, has signed for two films. It looks like his planned time off to recover from injuries has more to it than just nodding dumbly to all of Stephanie McMahon's wedding plans.
First up and probably the more ephemeral of the projects is a John Milius-written modern western titled Jornada Del Muerte (Journey of Death). Set in the American Southwest, it will feature motorcycle gangs, drug dealing, and men's codes of honor. Yes, after I type this, I'm going to have to rinse off some of the excess testosterone.
Deeper into the crossover nature of this site, however, comes the news that Levesque has signed on as a villain in Blade: Trinity, the final film in the Wesley Snipes superhero trilogy.
In addition to the wrestler, that movie, currently written and directed by David S. Goyer, will have Jessica Biel as the daughter of vampire detective Hannibal King. Said daughter will be a young hot vampire hunter nothing like Buffy whatsoever. Nope. Not in the least.