We're getting ready for Marvel Mayhem in September, as the long-awaited face-off among top creators gets underway. The stakes? Cancellation and humiliation, as the losers have to be the dummies in a dunk tank at Wizard World Chicago in 2003.
The known quantity is, of course, Captain Marvel. If you'll recall, a couple of months ago writer Peter David offered to do the book for free if Marvel would only hold off on a raise in price. Editor in Chief Joe Quesada declined David's offer, but did agree to take a wait and see attitude towards the book's sales.
That wasn't good enough for Marvel President Bill Jemas. He called David on the carpet and challenged the writer to a little gentleman's wager. Jemas (who has been itching to write for quite some time) would write a six-issue mini-series to coincide with a Captain Marvel re-launch. At the end of six months (okay, it's Marvel so it's more likely ten months), whoever's book sold worse would be cancelled.
Never one to be outdone by his boss, Joe Quesada countered that he, too, would produce a book to compete, using a concept he had previously rejected. Boy, that bodes well, doesn't it?
Which Marvel book will make it? Marvel management says, "U DECIDE!" (Yep, just like that.) All three books are scheduled for release on September 18, and here they are:
Ultimate Adventures #1: Edited by Joe Quesada, this book teams writer Ron Zimmerman and artist Duncan Fegredo to bring us the all-new, all-exciting adventures of …Hawk-Owl and Zippy? Quesada promises "…a touching look at the world of the super-hero sidekick. This will have a cover by Kaare Andrews.

All three books will be reasonably priced at $2.25. My suspicion? Get ready to taste pie, Joe Q., but I respect you for not taking this one too seriously. However, it's not up to me, because …U-DECIDE!

TDK Does Indeed Trump DC

A few weeks ago at E3, the makers of the upcoming Aquaman videogame, TDK, told anyone who would listen that DC would be re-launching an Aquaman title to coincide with the game's release.

This week, DC confirmed the news (to no one's surprise), though they would probably like to reverse the way it's phrased. For the dignity of AOL-Time Warner, let us say that the videogame will be released to coincide with the fantastic re-launch of Aquaman the comic book.

Following the events of The Obsidian Age: The Hunt For Aquaman which will run through JLA and related books this summer, December will see Aquaman #1. Rick Veitch will write this new ongoing series, with art chores handled by Yvel Guichet and Mark Propst. Before you turn away from the sea king, remember that Veitch did a controversial and excellent run on Swamp Thing, as well as creating Brat Pack and The Maxi-Mortal for his own King Hell imprint. Most recently, he has been working for America's Best Comics, writing Greyshirt.

"Without giving too much away, let me say that Aquaman's missing hand will play a big part in the new series in a way that will resonate with classic Arthurian legends," says Veitch. "We're also going to explore water in a way that's never been done in Aquaman before."

In an interview on Comicon.com, Veitch further explained that in some way he's not willing to reveal just yet, water will be treated as a character in the book. And Aquaman may not be able to get back to Atlantis.

We'll have more information on the videogame as it gets closer to the release date.

And Now, A Word From My Christmas List…

No, no, no, I'm not going to stand here screaming "me want pwesents!" I'm merely letting you know that DC Direct has gone back to do new production runs of some of their most popular figures.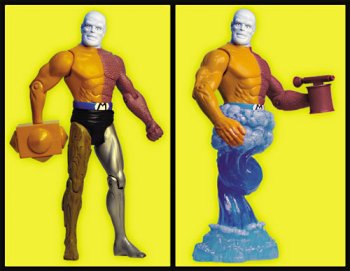 Sweet!

On September 25, the collector-friendly toy company will re-release figures of the Golden Age Green Lantern (now known as Sentinel), Green Arrow (from the Hard Traveling Heroes subset), Kyle Rayner as Green Lantern, and Captain Marvel (complete with Mr. Mind on his shoulder). All four figures will be released in DC Direct's new clamshell re-sealable packaging.

But that's not all…

He's not dead. He's NOT! But nobody has explained how he came back to life yet. I'm not talking about Aquaman; it's Rex Mason, better known as Metamorpho The Element Man.

Currently set for release on January 22, 2003 (all the better to save my Christmas money), Metamorpho will stand 6 ½" tall, and come with interchangeable hands (a hand, a fist, a hammer and a blow torch), and an ice/water/vapor "element" base that the figure's removable upper torso can be placed upon. This merits hours of play, causing co-workers to look at you strangely.

Considered a Deluxe Action Figure, Metamorpho will ship in a four-color window box for those who prefer to merely "display" their toys, telling co-workers it's an investment.

And now, back to our usually dignified news column…

Movies:

The Main Man Makes A Short Subject

For years, Warner has labored to get a Lobo project out of development hell. At one point, Lobo's creator Keith Giffen even turned in a screenplay tying The Main Man to the Superman franchise, but to no avail. For whatever reason, it was proving too difficult to develop. Fans may have even felt that his time had passed.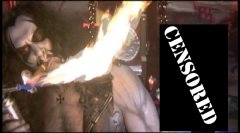 DC's most dangerous character come to life...

Not for budding director Scott Leberecht. As his first year project for the American Film Institute, Leberecht shot a 13 and a half minute adaptation of The Lobo Paramilitary Christmas Special, one of the character's first (and most sickly hilarious) solo appearances.

While the film is not going into distribution (after all, Leberecht doesn't have the rights), it does star Andrew Bryniarski, an established actor who has lobbied Warner for years to let him play Lobo.

Rob Worley at Comics2Film received a DVD of the short, and interviewed Leberecht in depth. You can read it here.

Comics2Film has a bunch of screenshots from the production, and Bryniarski is right: he does look like Lobo. The rest of the production looks pretty good, too.

No doubt it will start circulating at conventions, but should Mr. Leberecht be interested in more exposure, we at the Fanboy Planet offices would be happy to view the film. Don't make us beg, because we will. And it won't be pretty.

X2 Rumors: Taking A Shot At Chairshots

Okay, Hawk wasn't insane after all (well, maybe). Last week both Michael Goodson and Sarah Stanek reported that the wannabe wrestler had mentioned he flew out to L.A. to audition for the part of Colossus. All well and good, except that up until that Tough Enough Reunion Special, nobody had ever mentioned that Colossus was in the running to be a character in X2, the sequel to Fox's X-Men.

Over at Ain't It Cool News, Moriarty confessed that, after having read the script, he kept the Colossus bit to himself, as a surprise for fans later.

In the meantime, Kelly Hu (The Sorceress in The Scorpion King has been cast, but in what role, nobody seems exactly sure. Initial press reports described her character as Ann, an assistant to the movie's main villain Stryker. Since there's a villain named Stryker in the classic graphic novel God Loves, Man Kills, and he has an assistant named Ann, most people were taking it for granted that X2 would have some resemblance to Chris Claremont and Brent Jones' masterpiece.

Except that Hu has said in several places that she has been cast as Lady Deathstrike. Moriarty says no, and, as he's the only non-production person to have admitted to reading the screenplay, he's probably right. But a lot could change in a month…

It just wouldn't be a superhero movie if it didn't have rumors driving us crazy.

We Named The Dog Indiana…

Steven Spielberg confirmed at a Minority Report press conference that he was pretty excited about the upcoming Indiana Jones IV project, currently being scripted by Frank Darabont. Though he teased that he had a lot of spoilers he could share, he did confirm that Sean Connery will be returning as Dr. Henry Jones, Indiana's father.

As for star Harrison Ford, at age 61, he's actually a year older than Connery was when he first played Ford's father.

Speaking of Dogs…

Nobody should be surprised by this, but due to the success of Scooby Doo, Warner Brothers has officially green-lighted a sequel. All the cast will return, as well as Director Raja Gosnell.

Though not included in Variety's report, screenwriter James Gunn has told various sources, including Fanboy Planet, that he, too, will return, though on Monday he was pretty much just stunned by the first movie's success. It's a far cry from writing films for Troma Pictures then going to the number one movie in America (at least for one weekend).

For those in the Los Angeles area, Gunn will be doing a reading from his novel The Toy Collector, a semi-autobiographical work about a man named James Gunn who starts dealing in illicit pharmaceuticals in order to finance an obsession with toy robots. Many of us can relate, sort of.

The reading will be at Skylight Books in Silverlake, California on Sunday, June 23. Gunn wil be joined by authors Jonathan Ames (The Extra Man: A Novel) and Jerry Stahl (Permanent Midnight: A Memoir). For more details, check out Gunn's website or call Skylight Books at 323-660-1175.

A Whole New Mina

The League of Extraordinary Gentlemen just got an extraordinary woman.

Previously announced as Mina Harker in the film adaptation of Alan Moore and Kevin O'Neill's mini-series, Italian actress Monica Bellucci has had to drop out. Bellucci has been filming Man Of War with Bruce Willis, and its production will be running into LOEG's start date.

In Bellucci's place, director Stephen Norrington (Blade) has cast Peta Wilson, probably better known as TV's La Femme Nikita. All we know is that she's gorgeous and can really kick butt. Most importantly for Norrington, Wilson can make the start date of July 2.

The League of Extraordinary Gentlemen will be shooting in The Czech Republic, Malta, and England.

Hell Begins…

This week marks the official beginning of pre-production for Guillermo Del Toro's film adaptation of Hellboy. While so far no one beyond Ron Perlman as Hellboy has been officially cast, Del Toro does have a start date. On January 3, the director of Blade II will be unleashing hell on Earth. And we can hardly wait.

More Daredevil Cast Pictures

20th Century Fox held a press conference yesterday for Daredevil, and officially released pictures of the film's villains, Michael Clarke Duncan as The Kingpin and Colin Farrell as Bullseye. While not exactly like their comic book counterparts, both look like they're fitting their roles well.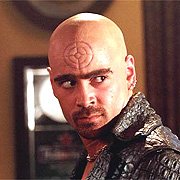 That has to hurt...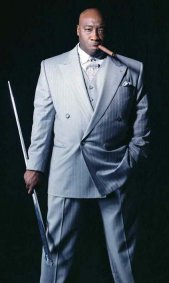 Who da man?
While no further photos of Jennifer Garner in an Elektra costume were released, Garner herself mentioned that she wears two costumes in the movie, both the black leather one we published last week, and a skimpier "…red costume with nothing underneath."
On February 14, 2003, we will no longer need the services of Mr. Greg Horn.
Television:
Just a couple of weeks ago, I was musing to a friend that kids today, they don't have no great horror film TV hosts to completely make fun of the movies they show. It's all SNL, or straight-up HBO. Or orgiastic debaucheries that for some reason I completely missed out on when I was in high school, but then, if I hadn't, I wouldn't be writing for a site called Fanboy Planet.
But let's leave that point for my therapist…
Anyway, having said much of the above out loud, it only stands to reason that SCI FI would prove me a liar. They've just signed William Shatner to host Saturday night horror films, including 13 movies from the Full Moon Pictures library. (Among those listed: the Peter David-penned Oblivion.)
In addition to hosting the films and making sarcastic comments, Shatner will also entertain guests such as Roger Corman and Stan Lee. More ominously, the press release mentions that he will "…personally reinterpret a gory moment from that week's picture" in every episode.
The fun begins July 20 at 11 p.m. on SCI FI. I just may be there.