Where to begin today? There's a lot of activity of interest to Fanboy Planet readers, so let's dive right in by appeasing the Joss Whedon fans...always a good idea...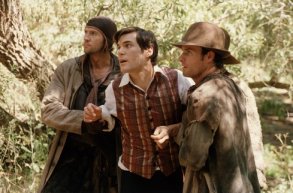 There's joy in Whedonville today...
Firefly: The Movie!
It's a bright spot for fans of Joss Whedon's work, after a few weeks of emotional beatings. Universal has given the greenlight for Firefly the Movie, only it's not called that. The big-screen version of Joss' late lamented (and short-lived) Fox series is to be called Serenity, after the ship captained by the rebel Malcolm Reynolds.
Most, though not all, of the cast has been confirmed for the film, scheduled to start shooting in June for a summer 2005 release. Not yet back aboard are Ron Glass (Book, the preacher) and Alan Tudyk (Wash the pilot). But give them time.
What this means for comics fans is that Joe Quesada had better have truly madly deeply learned his lesson from Kevin Smith and gotten a complete run of scripts for Joss' new Astonishing X-Men series.
Director John Singleton (Boyz n The Hood, Shaft) once again has circled Luke Cage, Hero For Hire. This isn't the first time he's been attached to a Marvel movie; for a while he was rumored to be interested in Black Panther and, a few years back, hey, Luke Cage.
But this time it's officially on his docket with Columbia Pictures, from a script by Ben Ramsey. Producing are Avi Arad and Neal Moritz, probably the element that sealed the deal, as Moritz gave Singleton his last job, on 2Fast2Furious.
The rundown on the film doesn't sound like a radical departure from the comic, except that it won't be as embarassingly stuck in the seventies. Described in a press release as "...a gang tough, after being convicted of a crime, who volunteers to undergo an experimental procedure to get his sentenced reduced. The experiment leaves Cage with bulletproof skin and superhuman strength and stamina. Using his new abilities, Cage breaks out from prison and goes after the criminals that set him up."
Cage's partner in Heroes For Hire, Iron Fist, has a separate deal over at Artisan, announced last week along with The Punisher 2 and Black Widow.
Of course, even officially being on the docket doesn't mean a thing. Just ask...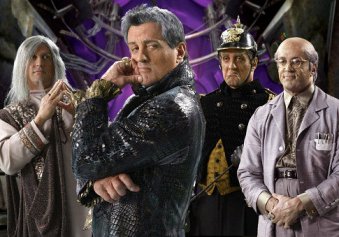 One of these men will be Marv.
Robert Rodriguez Comic Book Crazy!
After rocking comic book fans last week with his announcement that he was moving forward on a film adaptation of Frank Miller's Sin City, Rodriguez let slip this week that he's got Edgar Rice Burroughs' A Princess of Mars in his sights as well. And by rocking fans, we mean to say that he's actually stirred up a whole lot of controversy.
Oh, sure, he's fast, he's efficient, and he's true to his own vision. But Rodriguez is also tremendously uneven in that vision. For proof, see the tremendous crash and burn of Spy Kids 3-D, or Once Upon A Time In Mexico, a movie that is extremely cool even as it sucks hard. (Yeah, I dug it; I just feel bad about it in the clear light of day.)
What seems to have made fans of Miller's book nervous is the rumored casting of Josh Hartnett in the lead role. Not having read Sin City (let the stoning begin), we have no opinion to offer, except that when Hartnett was allegedly up for Superman, I fought dry heaves on an hourly basis.
As for A Princess of Mars, that project has been on and off of production slates all over Hollywood for almost a decade. So we'll see if it actually comes to fruition with Rodriguez, though at least he has a studio involved, Paramount.
More likely this is just a moment for Rodriguez to make himself look really busy and viable, and in Hollywood, you don't actually have to accomplish everything you say you're going to do. It's all perception. A couple of years ago, Arnold Schwarzenegger was committing to The Iron Crown, a Westworld remake, and Doc Savage, all as a ploy to keep his name in the news while he plotted taking over the state. For Doc Savage fans, things worked out better this way.
All this flurry of Rodriguez activity also brings up another question: what about Madman, a project he has promised and put off for at least three years?