Hey, gang. We've got some news, and I apologize that much of it comes straight from the press release's text. But the day job keeps tugging me away from important things like geeking out.
Comics:
It's Tsunami Week At Marvel dotCom…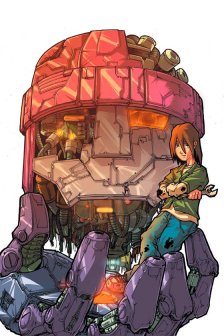 "Come in, Giant Robot..."
Just to get fans of this sort of thing salivating, Marvel will be posting a new 8-page preview of a Tsunami book every day this week.
It started on Monday with preview pages from Mystique, then rolled over to The Human Torch solo series.
Today they've posted Sentinel, which of all the manga-infused projects is my favorite just for seeming the most seamless merging of manga staple with existing Marvel Universe concept.
In addition, Sentinel writer Ted McKeever has posted even more information about the project on his own site, where you can get more art samples, notes on the formation of the project, and a discussion board.
(You're free to discuss it here, too, but we're pretty limited to e-mail correspondence. But what's wrong with that? You never write. You never call. I could be dead here.)
You can check it out here.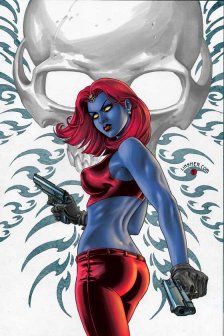 Sorry, we weren't done with the first wave...
Two Tsunamis? Is This Going To Leave Marvel All Wet?
Last month you saw it coming over the horizon ... this month it appears without warning.
In MAY, 2003, the 2nd TSUNAMI hits Marvel Comics!
WOLVERINE: SNIKT!
A 6-issue limited-series by manga super-star Tsutomu Nihei! In a barren wasteland, Wolverine battles against parasitic robot organisms, as well as devolving into his savage, berserker state forever! (like they threatened that time when Magneto took out his adamantium -- that was cool...yeah...that was cool...)
INHUMANS
A new Ongoing Series starring the next generation of Inhumans by Sean (SENTINEL, THE WAITING PLACE) McKeever & Matthew Clark! (So is this really New Inhumans?)
THE CREW
The events of TRUTH: RED, WHITE & BLACK rock today's Marvel Universe in this new Ongoing Series by Priest, Joe Bennett & Danny Miki! (please don't let it turn out to be the Wrecking Crew...please don't let it turn out to be the Wrecking Crew...)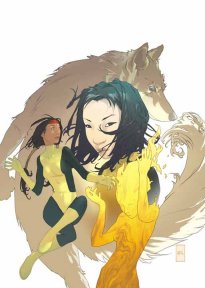 Not even Rob Liefeld could kill their spirit!

NEW MUTANTS
The New Mutants are back! But what happens when they meet ... the New Mutants?? Find out in this brand new ongoing series by SKINWALKER's Nunzio DeFilippis & Christina Weir, Keron (NEW X-MEN) Grant & cover artist Josh Middleton! (If we can just forget about how the previous series went terribly awry and accidentally launched Rob Liefeld's career into the stratosphere -- yeah, we have a lot of explaining to do about the year 1990 -- this could be good.)

These series all launch in May, and while they aren't exactly floating my boat (more Wolverine?), putting Priest on a follow-up to Truth could make for a compelling book, as Black Panther has made me eat my irritation at him as a writer.

…What About Website Communities, Teresa?

Stepping up their continuing commitment to expanding comics' creative talent pool, Marvel Comics has hired Teresa Focarile as their newest Associate Editor. Focarile's chief responsibility will be recruiting new writers from the film, television, and theater communities to work on Marvel properties alongside new and established comics professionals.

Focarile comes to Marvel following years in the literary department at The Gersh Agency in New York, one of the industry's top entertainment agencies, where she worked with and represented up-and-coming writers, composers and lyricists. Focarile has also worked in the literary offices of Helen Merrill Ltd. and The Public Theater/NYSF and for The Goodman Theatre's 'Arts in Education' department.

According to the new editor, the early response to her recruiting efforts has been tremendous.

"Almost every person I talk to, whether an agent, manager or writer, thinks this new focus is a great idea and is really excited about the opportunity," said Focarile. "It's incredible how many of them are longtime Marvel Comics fans. I've already gotten a flood of submissions."

"We're very pleased that Teresa has joined our growing editorial ranks," said Marvel President & COO Bill Jemas. "She brings with her a wealth of experience working with talented writers from diverse artistic fields. Her hiring is a very important part in an overall aggressive Marvel initiative to bring new creative voices into the comic book community."

Meanwhile, Over At DC…

They had a bit of an editorial shake-up last week, with editors Dan Raspler and Andy Helfer politely told they are free to seek other employment opportunities. In a move widely regarded as making Mike Carlin happy, The Great Carlini is no longer in charge of DC, but returning to editing several of the books. No longer will Bill Jemas be able to make fun of his eye-rolling ways.

Actually, that's not true. In a related announcement, Jemas vowed to redouble his efforts to playfully and utterly humiliate the competition, all in good fun (for him). To that end, the President of Marvel further announced that both Carlin and retailers who have problems with Marvel's policies will henceforth be known by the lighthearted term "slope-headed inbreeds."

In Carlin's place at the head of DC, by the way, is Dan DiDio, most likely working with a mandate to get Marvel to disarm and hopefully have a regime change.

Meanwhile, Over at Fanboy Planet…

We, too, have had a bit of a shake-up, in that we've lost one of our most recent columnists, Joshua Elder. Our loss is Wizard's gain, however, as those crafty guys stole Josh away to work as an Associate Editor. How did they do it? By offering him real money.

And by real money, I mean actual money, not those Michael Goodson lapdance coupons we periodically send out as a thank you to our writers.

Anyway, congratulations to Josh; look for him in the pages of Wizard soon, as well as on their new website.

Movies:

Oh, The Superhumanity…

Both Variety and The Hollywood Reporter have confirmed that Warner Brothers believes they've found their Superman for the big screen. The role belongs to actor Josh Hartnett (The Faculty, Pearl Harbor, Black Hawk Down) if he wants it.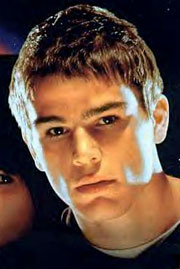 Oh, sure, he's dreamy, but still...

Apparently the sticking point comes in director Brett Ratner's plan to do his take on Superman as a trilogy; Hartnett has not yet agreed to a three-picture contract. By some accounts, he has until the end of the week to decide.

While this choice is not as bad as a Keanu Reeves, it's still one that screams wrongness. A fine actor, Hartnett has a dark intensity that fits villainous roles, such as the one he had in O, to a tee. When he plays heroes, he comes off as uncomfortable and slightly doofy. Fanboy Planet film writer Jordan Rosa brands him the modern Tony Perkins.

And if you're going to have an adult Superman, it might also be a good idea to have one who at least looks older than Smallville's Tom Welling.

Then again, some of us threw up at the thought of Michael Keaton as Batman, and that worked out okay. Consider my breath officially not held.

Isn't He Amazing?

Coming Attractions has confirmed what Ain't It Cool News claimed last week: someone has been cast as Doctor Octopus for The Amazing Spider-Man (a.k.a. Spider-Man 2).

Now planning to play the vaguely Germanic super-villain: veteran actor Alfred Molina. Molina most recently appeared in one of the title roles (you figure which one) of the CBS sitcom Bram and Alice, and played Diego Rivera in the Oscar-nominated Frida. But really, to see the kind of cold insanity he can bring to the role, check out Prick Up Your Ears or his coked-up cameo in Boogie Nights.

If he backs out now, there's always Josh Hartnett…

Television:

Will The Last Person To Leave New Gotham Please Turn Out The Lights?

Tonight the WB will broadcast the two-hour "season finale" of Birds of Prey. Really, it's the last two inventory episodes shown back to back, and don't read anything into their phrasing. There's no hope of them returning.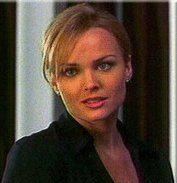 I'll miss Oracle most of all...

However, if you stopped watching the show early on (and it's understandable for all but the most hardcore fanboys, i.e. "me"), tonight might be worthwhile because the first episode "Feat of Clay," will feature an actual Batman villain, possibly recognizably so. From the title you can guess that it's Clayface, and the Birds of Prey take on his son.

So, yeah, sounds like they messed this one up, too.

Hiyo, Silver, Like, Away, Dude.

Next Tuesday, by the way, the WB will further shame their apparent commitment to comics-related properties by airing a two-hour backdoor pilot for The Lone Ranger. Youthened up a bit, this masked man has long flowing blond hair and a different secret identity than traditionally provided. But he still has an Indian sidekick.

The Rawhide Kid could not be reached for comment.