Natalie Portman Joins Cast of Thor

The following news is pretty interesting -- not necessarily in that Kenneth Branagh sought out an actress as talented as Portman, but that she's playing Jane Foster. It just goes to prove that Marvel has been incredibly good at keeping secrets.
Most speculation had been that the Thor script would NOT focus on modern-day Earth, but rather stay in Asgard, making it a much more mythical adventure that might set up why Thor would be on Earth for the Avengers' movie. With a star as big as Portman playing the love interest of Thor's alter ego, Don Blake, that's clearly off the table. (Though no one's talking -- is actor Chris Hemsworth playing both Thor and Blake, and how the heck would that work?)
This movie looks to be about the humbling of a god, and the making of a modern-day superhero. Check it out -- and mark the date on your calendar, because this one's going to be good.
From Marvel Studios:
Marvel Studios announced today that Academy Award® nominated actress Natalie Portman has been cast to star as Jane Foster in the studio's highly anticipated movie THOR. In the early THOR comics, JANE FOSTER was a nurse who became Thor's first love. The character will be updated for the feature adaptation. Portman will star opposite Chris Hemsworth who will play Thor and Tom Hiddleston who will play the villain Loki. Kenneth Branagh will direct the film.
Marvel Studios' Kevin Feige will produce THOR. Principal photography for the film is set for early 2010. The film will be released in the US on May 20, 2011 and distributed by Paramount Pictures.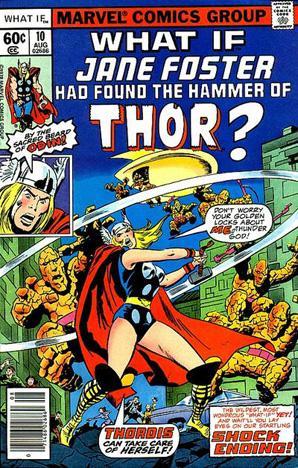 Or she could pick up the hammer...now THAT might be cool...

Marvel Studios expands its film universe with a new type of superhero: THOR. This epic adventure spans the Marvel Universe; from present day Earth to the realm of Asgard. At the center of the story is The Mighty Thor, a powerful but arrogant warrior whose reckless actions reignite an ancient war. Thor is cast down to Earth and forced to live among humans as punishment. Once here, Thor learns what it takes to be a true hero when the most dangerous villain of his world sends the darkest forces of Asgard to invade Earth.

Portman will next be seen starring in Jim Sheridan's BROTHERS opposite Jake Gyllenhaal and Tobey Maguire. She recently wrapped production on HESHER, starring Joseph Gordon-Levitt and executive produced by her production company handsomecharlie films, and Don Roos' LOVE AND OTHER IMPOSSIBLE PURSUITS, which also she executive produced. In 2004, she won a Golden Globe Award for Best Supporting Actress as well as an Academy Award nomination in the same category for CLOSER. She also earned critical acclaim for her role in GARDEN STATE and is most well known for her role as Queen Padme Amidala in the STAR WARS Trilogy. Other film credits include THE OTHER BOLEYN GIRL, V FOR VENDETTA, COLD MOUNTAIN, ANYWHERE BUT HERE, HEAT, BEAUTIFUL GIRLS, and THE PROFESSIONAL.

THOR is one of a continuing slate of films being produced by Marvel Studios based on the Marvel characters, including IRON MAN 2 on May 7, 2010, THE FIRST AVENGER: CAPTAIN AMERICA on July 22, 2011, and THE AVENGERS on May 4, 2012.

Next interesting thought: If it's true that Jessica Biel is in talks to play either The Enchantress or Sif, well, we've got ourselves an interesting triangle, don't we?