If you won't come get him, he'll come get you...
It's a good day to be a villain at Marvel Comics. Actually, it's a better day if you're a fan of their villains.
For those who have somehow missed the Venom boat that set sail last month, Marvel announced yesterday that February 26th will see the release of Marvel Must-Haves: Ultimate Venom, a 96-page collection reprinting issues #33-36 of Ultimate Spider-Man. While it does leave off the last two chapters of the Venom Saga, it makes a great way to catch up, or to help some poor unsuspecting friend catch up. Best of all (or more frustratingly of all if you've been buying all along), this collection will cost only $3.99, less than half of what the individual issues cost.
Ultimate Spider-Man #37 will go on sale one week later on March 5, and with #38 will wrap up the storyline. Marvel politely also asks us to remind you that on April 23rd, the original Venom will be returning to politely eat your brain in an ongoing series.
Bendis has done such a great job reviving my interest in Venom that the regular Marvel Universe book by Daniel Way and Francisco Herrerra may get my money.
Ah, but what of a book that already has me hooked?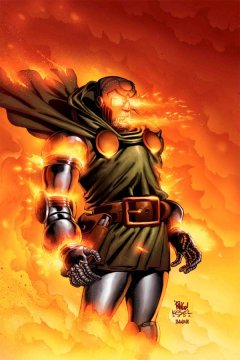 This is why they say
"don't drink the water..."

The Marvel Universe just doesn't seem complete without Darth Vader's granddaddy, Doctor Doom. And as Marvel announced a few weeks ago, he's back.

With a vengeance? Such petty emotions may be beneath Doom. But we do know that whatever Doom plans on doing, it will be "Unthinkable," in a story arc that begins March 26th in Fantastic Four #67 and runs through #71, which technically is actually #500. (Let's not get into that here.)

"To my surprise, the buzz and anticipation around 'Unthinkable' has been stronger than we'd ever imagined it would be - and that's great, because I guarantee you that I carry that energy and excitement into the finished scripts," says series writer Mark Waid.

"Expectations are high, but we're committed to delivering a landmark FF story - and the whole creative team is pulling out all the stops to make it unforgettable."

I already have my private guess as to what line Doom could cross that would be "unthinkable," but I even offend myself with it. Suffice to say that Marvel has chosen to whet our appetites by previewing ten pages of Fantastic Four #67 online at their dotComic site.

If you're not already reading this book, you're missing out. So hie thee to Marvel dotComic and see why everybody's buzzing.