Welcome To The Marveldome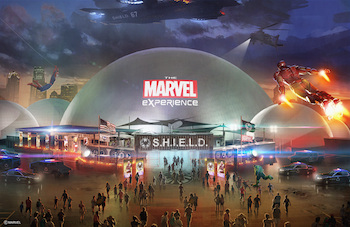 Two fans enter; one fan... oh, we just don't know. But it looks like Marvel plans to do more than just provide a traveling musical stunt show to arenas in the U.S. and Canada -- they're going to be bringing their own traveling arena in a completely different experience.
Revealed this morning by Hero Ventures, this artists' concept of "The Marvel Experience" comes with the promise that Marvel will be taking this show on the road beginning this year. And what is this show? According to Global License,

...a maze of connected domes will lead guests through an array of interactive games and original animated short films including the first-ever traveling motion-based ride.
In short, a Marvel Carnival, more than six stories high. Designed to look like a S.H.I.E.L.D. mobile command center -- though totally given away by the Marvel branding -- it will cover more than 80,000 square feet, so likely to be appearing in the same places you'd see Cirque Du Soleil set up, or perhaps overtaking any local abandoned amusement parks, if you can get rid of the snooping mystery-solving kids.
As mentioned above, the Command Center appearance will include a series of domes

"...central to the singular storyline that pulses through The Marvel Experience and are enhanced by state-of-the-art design applications and graphic elements," says Doug Schaer, chief operating officer, Hero Ventures. "The interior will feature an exaggerated comic-style utilizing projected high-tech imagery, amazing fabricated set pieces and virtual simulations to advance the story. Our guests will be interacting directly with multiple Marvel Super Heroes, as well as members of S.H.I.E.L.D., as they take their place in the Marvel Universe."
So... when and where? All that's been released so far is sometime this year, in the U.S. and Canada. But we'll be keeping an eye out for updates. With that promise of a motion-based ride, they could be beating their own Disney plans to the punch.