The First Avenger Gets Its Director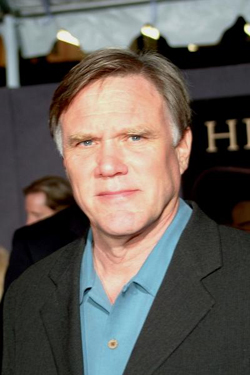 The man who will give us Captain America.

Marvel officially announced today that The First Avenger: Captain America (title given a colon so the second half can be lopped off overseas) rolls forward with a director.

Joe Johnston, currently working on The Wolfman with Benicio Del Toro, will helm the hotly anticipated (by us, anyway) picture. As had been announced earlier, they're still aiming for a release date of May 6, 2011 for this film, to be followed a month later by the Jon Favreau-produced The Avengers.

Along with the announcement, Marvel Studios sent a logline for the film:

In the early days of the Marvel Universe, Steve Rogers volunteers to participate in an experimental program that turns him into the Super Soldier known as Captain America.

So far so good, right?

At this point, they don't have a script and they don't (to our knowledge) have an actor signed, but the logline seems on track.

On track, too, is that choice of Johnston. Yes, some have been groaning that this former special effects wizard has been given the job after less than spectacular work on Jurassic Park III . And yes, he launched Disney's Honey, I Blanked the Kids franchise.

More importantly, though, he has proven himself very adept at reaching into times past, a touch that will be absolutely necessary for a Captain America film. Johnston guided Viggo Mortensen across the Sahara in Hidalgo. That was 1890, and that's a decent little film.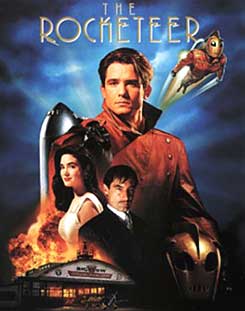 Lightning will strike twice.

But he's already made the grade with one of the single best comic book to film adaptations ever -- Disney's The Rocketeer. Speaking of that, where's the special edition DVD on THAT one, Disney? Come ONNNNNNNN!!!

Ahem.

Johnston captured the right blend of excitement, innocence and adventurousness for the adaptation of Dave Stevens' masterpiece. We don't need to see a grim and gritty Steve Rogers -- we need to see a young man who represents the best of the spirit of this country become the greatest hero of World War II. We need hope, a living symbol of the flag.

I'll put my money down now; Johnston did it once and he'll do it again. Once again, Marvel Studios has made the right choice, following Favreau, Leterrier and Branagh.

Now who's got good casting choices for Steve Rogers himself? If you say Matthew McConaughey, I'll hit Lon.