Batman Vs. Superman Gets Its Lex Luthor And Alfred --
This Just Got Interesting: Jesse Eisenberg and Jeremy Irons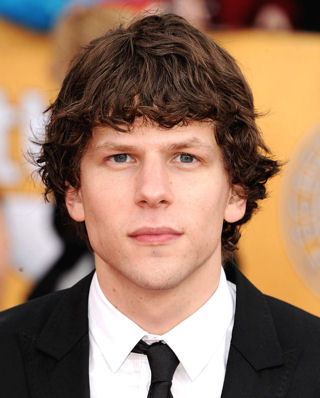 That cold, calculating stare....
In two casting moves nobody saw coming, Batman Vs. Superman, World's Finest, Whatever We Want To Call It has its Lex Luthor for Henry Cavill's Superman, and its Alfred for Ben Affleck's Batman, and up top I'm going to say -- brilliant choices.
For Lex Luthor, the rumors had been Bryan Cranston and Joaquin Phoenix. Instead, Zack Snyder will direct Jesse Eisenberg in the role, saying
"Lex Luthor is often considered the most notorious of Superman's rivals, his unsavory reputation preceding him since 1940. What's great about Lex is that he exists beyond the confines of the stereotypical nefarious villain. He's a complicated and sophisticated character whose intellect, wealth and prominence position him as one of the few mortals able to challenge the incredible might of Superman. Having Jesse in the role allows us to explore that interesting dynamic, and also take the character in some new and unexpected directions".
What is not said but we're all thinking -- The Social Network's Mark Zuckerberg is Lex Luthor. Genius, distracted, cold, dry and younger than Superman. This hotshot genius is encountering one force that he cannot bowl over by just being the smartest guy in any boardroom.
While the dynamic between Lex and Superman has been played many different ways, this is one I am racking my brain to find, and I can't. This is something new. And if you're going to tell the story of these two facing down, you have to give us something new. Better, it still has to make sense, and this does.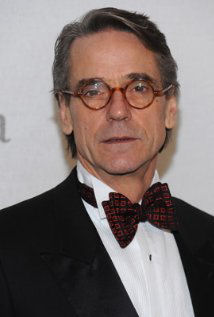 Very good, sir....
As for Alfred, Snyder has the elegant Jeremy Irons in the role, somewhat of a callback to Michael Gough in Tim Burton's 1989 vision, but evolved beyond it. Previous rumors had Timothy Dalton in the running, and there would certainly be a different energy with a former James Bond there.
However, Irons has, well, iron. He can be kind and quietly menacing, equally adept at hero and villain. Let's face it -- he's a damned good actor. So it's another interesting choice. Snyder's comments about Irons:
"As everyone knows, Alfred is Bruce Wayne's most trusted friend, ally and mentor, a noble guardian and father figure. He is an absolutely critical element in the intricate infrastructure that allows Bruce Wayne to transform himself into Batman. It is an honor to have such an amazingly seasoned and gifted actor as Jeremy taking on the important role of the man who mentors and guides the guarded and nearly impervious façade that encapsulates Bruce Wayne."
Okay, Mr. Snyder. You have made interesting casting choices. Now give us an interesting film with that extra time. May your vision be worthy of their talent.