Review: Hugh Jackman In Performance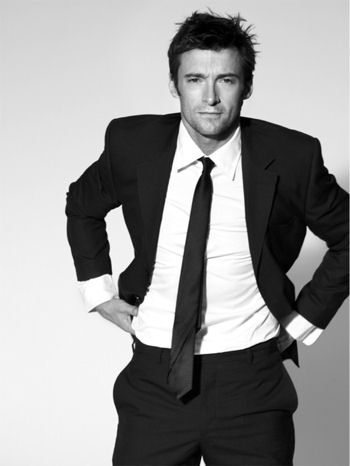 He is not the boy next door.
Do not record the performance. Do not take photographs of the performance. And remember… he is Wolverine. He will hunt you down.
And yet as Hugh Jackman admits in his new one-man show, appearing on stage and paying tribute to his favorite musicals does provide a bit of an image problem. One, he claims, that makes Hollywood executives nervous. But after two hours of Jackman making a case for himself as one of the most versatile and talented performers around, even studio executives would have to say – if Wolverine wants to sing, let him sing!
Looking around at the audience at the Curran Theater in San Francisco, there's a curious mixture. Some do identify the Australian actor as Wolverine – though clearly a few dream of his role in Kate & Leopold. Some brought their binoculars in hopes of seeing him perspire in high definition. And some were a group of "Ozzies" waving glow sticks and cheering on their hometown boy.
Sure, it's a continent-sized hometown, but you get the picture.
Wherever it is, there's a bright golden sun on the meadow, as Jackman begins singing offstage. It was that role of Curly in Oklahoma that brought Jackman to the attention of Bryan Singer over a decade ago and changed the actor's life completely.
Not only does he own the audience before stepping onstage in front of his live 17-piece orchestra, he's humble and easy-going about it. Maybe surprisingly, Jackman is so confident as a performer that nothing can throw him, easily falling into a light banter with the audience whether they be in the orchestra or the nose-bleed balcony.
From Oklahoma Jackman slides in and out of a variety of styles and musical decades, but he doesn't go it alone. Besides a crack orchestra, Jackman gets support from two talented (and hot) singer/actresses, Merle Dandridge (who plays Alyx Vance in Half Life 2) and Angel Reda, already popular in San Francisco for a long run as Elphaba in Wicked.
To keep up appearances and an admittedly obvious joke, Jackman has actor Steve Lord play his trainer for The Wolverine, a surly body-builder tasked with making sure Jackman lifts weights and doesn't dance.
Of course, Jackman's other starmaking role – or at least Tony-winning one – can't help but give in to the music. And so after Jackman slips offstage to let Dandridge and Reda cut loose on "Take Me For What I Am" from RENT, it's the Boy from Oz Peter Allen who spills out over a box seat and flounces back down to the stage.
Though Jackman gives glimpses into his past through a running reference to phone calls that changed his life, he also uses this show to throw some light on his passions.
Yes, he likes Rodgers and Hammerstein, and I'll admit that after hearing Jackman perform "Soliloquy" from Carousel, it almost made me want to sit through that show again, but only if Jackman plays Billy Bigelow. But after shedding the Peter Allen persona, Jackman took a moment to talk about his personal favorite of Allen's songs, a heartbreaking tribute to Australia and Allen's own family called "Tenterfield Saddler." To most of the San Francisco audience, it's unknown, though Jackman referred to it as almost an anthem down under.
One phone call, he claims, changed his life the most, when at age 18 he got the call to work with the Aboriginal people of Australia, farming and working in a general store. Though he left after a few months to finish school, that experience clearly changed him.
As he paused for a film montage of the Aborigines in the outback, two didgeridoo players rose from the audience and the music shifted into a guitar arrangement of "Somewhere Over the Rainbow" that owed much to Israel Kamakawiwo'ole's cover of the song.
And thus Jackman introduced the Nomad Two Worlds project, a program created after the Australian government apologized to the indigenous people of Australia in 2008. Jackman describes it as an effort to provide "reconciliation through culture," and it provided a fitting way to cap off the night, entertaining the audience while hopefully sparking a little social conscience.
But he's still a consummate song and dance man, so yes, he had an encore or two. His image remains safe, though maybe he added a shadow behind him – a new Gene Kelly, perhaps, or even a touch of Sinatra as an entertainer who can be tough, heroic, no doubt a man's man, but also knows that sometimes you've just got to give in when you've got ta dance.
Hugh Jackman In Performance runs through May 15. Tickets are available online here.