And Lo, There Shall Come A Champion...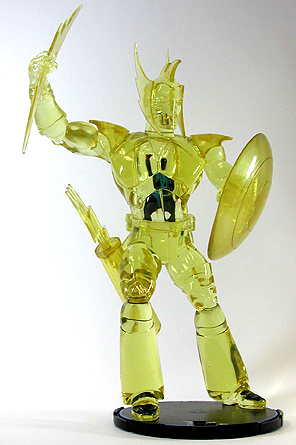 Not the actual trophy, but probably incredibly close, only on the base it says "Carl S. Nestro."
So now we know who the best is. Enjoy it while you can, Kyle Dembinski, because now every two-bit HeroClixSlinger is going to head to Kansas and try to take you down with little more than a well-organized Gotham PD.
Though the press release isn't quite specific, I'm going to assume this was a 200 point game, and not WizKids' new innovation, the Battle Royale, which looked hella fun in San Diego.
From WizKids:
Kyle Dembinski, a 15-year-old from Olathe, Kan., was crowned DC HeroClix(tm) world champion after rising to the top and defeating all opponents at Wizard World Chicago on August 10, 2003.
Dembinski survived six grueling qualifying rounds and more than 100 of the best HeroClix players in the world to advance to Sunday's Championship. Preliminary rounds were Booster Drafts, with contestants building teams on the spot using figures from booster packs opened on site. For the final round, Dembinski and the other finalists assembled hand-picked forces from their own figure collections.
Dembinski's winning army consisted of a Veteran Nightwing, two Rookie Live Wires, a Rookie Hawkman, an Experienced Bane, a Veteran Deathstroke and two Rookie Easy Company Medics. These figures carried him to victory through four single-elimination rounds against the best HeroClix players in the world.
"I wasn't even sure I was going to play," Dembinski said after he received the Construct Trophy - Sinestro's yellow energy construct mounted on a trophy base. As part of his prize package, Dembinski also received a full set of DC HeroClix: Cosmic Justice figures, a complete collection of DC HeroClix Limited Edition figures, 24 DC HeroClix: Cosmic Justice booster packs and DC HeroClix Indoor and Outdoor Adventure Kits.
The event's Fellowship award, given to the player who best embodied the spirit of sporting play that WizKids tries to foster in its player community, went to Billy Zonos, a 23-year-old from Yorba Linda, Calif. Zonos attended the Championship with a cadre of players dubbed the "SoCal Clixers." Zonos said his goal in playing in the event was "having fun."
Fun? Fun? This isn't about fun, Billy Zonos. This is HeroClix. It's about total annihilation of your opponent over a bottle of Diet Mountain Dew and some Funyuns! It's...oh, man, I need to lie down...