Mark Hamill In Touch With Fandom
The Fandom.com, that is...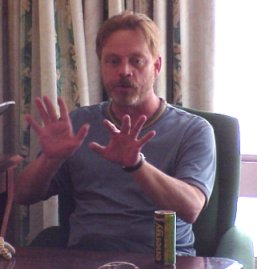 See? He doesn't really have a robot hand.

Recently, Creative Light Entertainment invited Mark Hamill on their internet radio show, What's Hot, co-hosted by Scott Zakarin, Rich Tackenberg and Survivor survivor Rob Cesternino.

The occasion? Comic Book: The Movie had been nominated for "Best Live-Action DVD Premiere Movie" by the website DVDExclusive.com. The Miramax release did, indeed, win the award, as well as Best Supporting Actor in the same category for Sid Caesar. Sadly, DVDExclusive failed to have a category for Best Content Extras, an area in which CB:TM really soared.

At any rate, Hamill spoke about much more than his directorial debut, roaming from his animation career, future projects and of course, Star Wars.

Always an interesting interview, we recommend you check Hamill out in The Fandom.com's archive.