In Memoriam: Frank Gorshin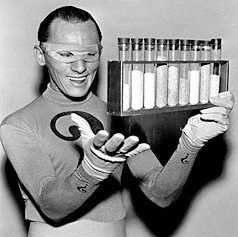 Holding the members of the United World Organization.

Tuesday night, the world of fandom lost a legend. According to the AP, Frank Gorshin succumbed to cancer and emphysema at the age of 72, with his wife by his side.

You may know him best as The Riddler on the 60s' series Batman. What you may not realize is that the role garnered him an Emmy nomination. And why not? Watch any episode featuring Gorshin (for one arc John Astin replaced him), and notice that he is the only actor trying to build a serious character.

His brilliance at the role may have inadvertently ruined the Batman franchise decades later. Certainly, Jim Carrey aped Gorshin to great success in Batman Forever (perhaps also inspiring Tommy Lee Jones' occasional bizarre impersonation of Cesar Romero) , leading Joel Schumacher to conclude that the audience wanted camp. The director didn't understand that Gorshin wasn't camp.

In Adam West's commentary for the film version of Batman: The Movie, he points out how focused Gorshin always was. Burt Ward studies a scene and notices that Gorshin is always doing something, always in character, while the other villains preen and try to find a piece of scenery to chew.

Tying as many pieces of our readership together as possible, note his stirring performance in the classic Star Trek episode, "Let That Be Your Last Battlefield," as an half-white half-black alien. He received a second Emmy nomination for that role.

But Gorshin had talent far beyond genre concerns. For many years he worked a stand-up nightclub act that many have said was one of the tops in the business. Sammy Davis, Jr. claimed that Gorshin taught him how to do impressions that went way beyond simple shtick. In fact, the impressionist's big break came when he did his act on The Ed Sullivan Show; that may be forgotten because some band called The Beatles also played that night.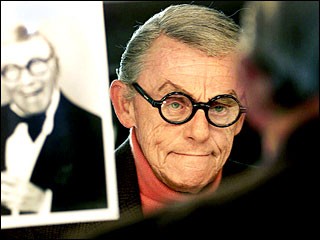 Say goodnight Gracie.

Gorshin was so good at inhabiting the skin of other actors that two years ago he had a successful one-man Broadway show, Say Goodnight Gracie, recreating the life of George Burns. He did it without prosthetics and only a little make-up. For film, he did don prosthetics to be Burns in a still unreleased movie, Angels with Angles.

His connection with Batman had recently been rekindled, as Gorshin voiced Hugo Strange for an episode of the new KidsWB! Series The Batman. Like a lot of actors with cult followings, he had also found some success working on computer games, voicing multiple characters in the popular Diablo series. If you want to find him in a more serious role, you could do far worse than renting Terry Gilliam's brilliant 12 Monkeys, in which Gorshin played a small but interesting role as Bruce Willis' doctor.

For those looking for a scheduled last hurrah, Gorshin will be on tomorrow night's (May 19, 2005) episode of CSI, directed by Quentin Tarantino.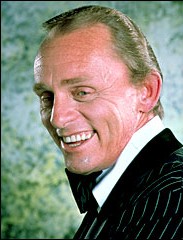 Let that be your last image of him.