Gene Colan:
A Fanboy Planet Remembrance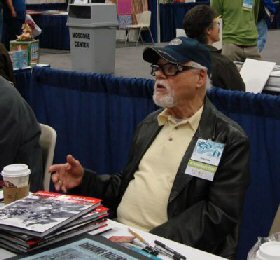 Gene at Wonder-Con
(photo courtesy of Newsarama.com)
Comics fandom lost a giant last night. After struggling with various illnesses and personal tragedies in the last decade, veteran comics artist Gene Colan passed away at the age of 84. The news was broken by his long-time friend Clifford Meth.
I only once met Gene Colan in passing at a convention, and that meeting was likely courtesy of Clifford Meth. I could only gush over this great artist, whose skill and style made the greatest impact upon me growing up in the 70s, even more so, dare I say, than Jack Kirby.
It stems from a book given to me by my dad when I was 6 -- Stan Lee's Origins of Marvel Comics. In it Stan selected a Daredevil story drawn by Colan, and in his introduction to it went on at length about Colan's uniquely (at least, at the time) cinematic style. How much he played with light and shadow, and how much effort -- I'm paraphrasing from my memory of Stan's words -- Colan would put into a panel just featuring a hand turning a doorknob, a panel that seemed like a still out of a film noir.
So that impressed me, long before I quite understood what noir was. I didn't read Iron Man, and though I was aware of Tomb of Dracula, my parents wouldn't let me buy it. (Oh, yes, I have the Essential editions of them. Oh, yes.)
And then came ...Howard the Duck. Thanks to speculators and my being limited to picking up books at 7-11s and the Rhonda Valley Rexall, the first issue of Howard the Duck that I got was #4, and Colan's art had me hooked. I loved Howard; I loved the artist who made him believable alongside the far more realistic Marvel Universe -- Colan's art, in fact, made Howard far more real than the actual live-action movie.
Then in the 80s, Colan drew some spectacular if now largely forgotten books off the beaten path -- most for DC, including Nathaniel Dusk and a title I'd really love a trade collection of, Silverblade. With his collaborator on Tomb of Dracula Marv Wolfman, Colan also worked on the supernatural Night Force, a concept just begging for a TV series.
DC recently reprinted the first arc as a 100 page special, no doubt in part to help get Colan some royalty payments to help with his medical bills, but also because ... it's a really good series. And poking around Amazon, I just discovered they'll have a hardcover collection of the entire series coming out in October.
Colan worked into the 21st Century, winning an Eisner for Best Single Issue in 2010 for Captain America #601, a story written by Ed Brubaker.
Back in 2004, I interviewed novelist Glen David Gold, author of Carter Beats the Devil, who wrote a story for Dark Horse's Escapist Adventures, illustrated by Colan. Like anyone who got the chance to work with Colan, he enthused:
Gene is my man. I love his stuff. I loved it when I was a kid (who else drew like he did? You know modern comics better than I do -- does anyone these days draw in "the Colan school"?). He did an amazing Captain America, an amazing Daredevil, and (as you can tell) his Howard strikes me as definitive.
I asked the editors at Dark Horse if they could get Colan to draw the story, and about an hour later, I got an email from Gene saying he'd be delighted. Which terrified me. Now I had to try to write something good. I think he did an amazing job. How he does that light-and-shadow thing is unreal.
If Colan has any artistic heirs, it would be in artists like John Cassaday, who learned their craft from studying movies and the interplay of light and composition there. But Colan was doing it first, and though many great comics artists have had their slavish imitators, no one has managed to capture the magic of Colan.
Further details and no doubt a chance to donate to defray the costs of Colan's medical bills are at Clifford Meth's blog. Below is a drawing Gold commissioned from Colan long before he met him -- revisit the master.