Director Josh Trank Debunks Fantastic Four Synopsis
UPDATE: Plot Synopsis Removed By Request Of Fox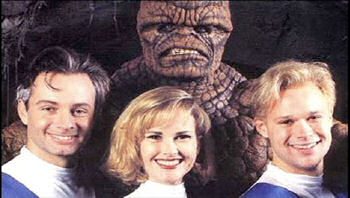 Yes, we can smile again.
A few weeks ago, Nate Costa was poking around various employment sites in L.A. and discovered a casting notice for Fox's reboot of Fantastic Four. Outraged, he forwarded it to Ric and myself, and, well, it was the holidays and I wasn't anywhere near the computer to update, and we kind of missed out on a scoop that set fan journalism ablaze this week when others found it.
The casting notice contained a brief synopsis of the proposed film, and it sounded nothing like a Fantastic Four as we knew it, or more realistically, it seemed like a riff off of Marvel's Ultimate Fantastic Four without actually using that material, since likely Fox doesn't have the rights to any versions of characters out of the Ultimate Universe. (Made more likely since Marvel Studios used the Chitauri from the Ultimate Universe, which had been Skrull stand-ins -- and likely Fox owns the Skrulls and crap it's confusing, I know.)
UPDATE: We have received a cease-and-desist letter from Fox, and at their request, have pulled the synopsis from the site.
No sense of wonder -- and even the original Corman film seems to treat the concept with more respect. Well, we can hope that the film's director Josh Trank agrees, too, because today he tweeted out a dismissal of this synopsis.
In his tweet, he says it's "not even close to the synopsis. I don't know who put that out." Assuming we can trust him, thank you. If he's lying, well then, he'd better be as good as J.J. Abrams or Stephen Moffat, the only other liars I trust.
Interestingly, further down the casting page sits a paragraph about Trank, talking about upcomign projects, and one caught my eye because I hadn't heard about it in so long I thought it was simply dead. According to the site, Trank is on track to finish Fantastic Four then go to Warner Brothers and direct an adaptation of Christian Gossett's The Red Star.
This isn't mockery; it's just that that project has been in play almost since Fanboy Planet began, and I'd never heard this rumor. Interesting, and certainly better and less likely to anger long-time fans with any liberties he'd take. And for the record, it's a pretty interesting series.