Change That Tattoo To "Tonto Forever..."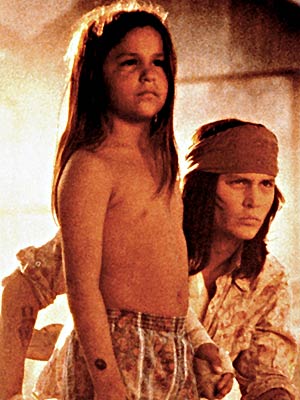 Depp in his directorial debut, The Brave

About a year and a half ago, Fanboy Planet sniffed around and picked up a rumor that Disney Studios planned to get on their high white horse and cry "Hi-Yo, Silver!" Yesterday at a Showcase events for marketing partners, the studio did more than confirm it - they announced their Tonto.

Actually, they got a trifecta out of one announcement. By bringing Johnny Depp onstage dressed and performing as Captain Jack Sparrow, chairman Dick Cook not only revealed that the charming leading character actor would be the Lone Ranger's sidekick, he would return as Sparrow in a fourth Pirates of the Caribbean film and play the Mad Hatter in Tim Burton's current production of Alice in Wonderland.

That last one was pretty well-known, and despite weak protests to the contrary, anybody with the slightest understanding of how wheels turn in Hollywood would know that Depp would return to piracy. Besides, he clearly had too much fun doing that trilogy.

However, the Tonto announcement came out of the blue. Obviously producer Jerry Bruckheimer struck gold once by casting Depp, and might consider him a bit of a good-luck charm - though considering the guy's talent, it's not much of a risk.

This does place the film, to be adapted by Pirate screenwriters Ted Elliott and Terry Rossio, at a later stage in the Lone Ranger and Tonto's lives than most portrayals. The current Dynamite Entertainment comic book has him in twenties, while Depp in his mid-forties.

Previously portrayed on film by Native American actors Jay Silverheels and Michael Horse, Tonto has evolved from telegraphic speaker (in radio and early TV episodes) to teacher, crimefighting partner and possibly even much wiser than the title character. Depp would continue one important tradition - the actor is of Cherokee descent.

Of course, another big question is "who will be that masked man?" Aint It Cool News reports a rumor that Disney is pursuing George Clooney, a very cool choice that once again, though, would put this with two leads rapidly aging out of franchise potential.

In a strange twist, Clooney was once attached to play the Lone Ranger's great-nephew, crusading newspaper publisher Britt Reid aka the Green Hornet. That role has now gone to Seth Rogen in a Columbia Production slated for summer 2010 release. The Lone Ranger seems to be on track for 2011 at the earliest. Now if only the two franchises could acknowledge each other, this would be completely geektastic.