Jason Momoa IS Aquaman
posted 6/14/2014
UPDATE 8/12/2014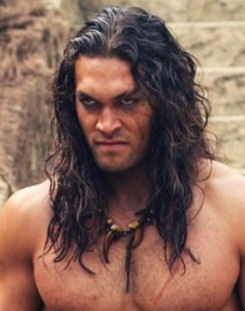 Maybe not as Arthur Curry.
UPDATE: Almost two months after the rumor first broke, and after Jason Momoa has had to play coy on talk shows and stay silent at Comic-Con, Warner Brothers has confirmed through Variety that Momoa will indeed play Aquaman in Zack Snyder's Batman v Superman: Dawn of Justice.
This comes after Snyder called in to a local radio talk show in Detroit where the production has been filming. Though never coming out and saying, "yes, we have Aquaman," Snyder temporarily became my hero by pointing out exactly how bad-ass Aquaman is, with super-strength thanks to surviving the ocean's depths, near invulnerable skin and a trident that can pierce Superman's flesh.
So clearly, he'd thought about it a lot.
Batman v Superman: Dawn of Justice will now open March 25, 2016, either a sign that 2016 will have non-stop movie greatness or Warner Brothers already thinks they have a Daredevil or Ghost Rider on their hands. Please, please, PLEASE let it be the former.
Original Post:
I wanted Martian Manhunter, just to spite David S. Goyer. Ric was hoping for Lobo -- though could somebody who actually read Stormwatch tell me how that Lobo/fake Lobo storyline played out?
According to Drew McWeeny over at HitFix, Jason Momoa will be playing Aquaman in both Batman v Superman and, of course, Justice League.
Though Momoa himself has been denying this and asking people to stop asking him, it's for two reasons: Warner Brothers wants to drop that bombshell when the time is right, and Momoa is a team player who understands when he's been sworn to secrecy.
If McWeeny is right, though, and he usually is, the set-up for Aquaman feels absolutely right spinning out of Man of Steel. Whether or not Aquaman gets named as such in Batman v Superman (remembering that nobody calls Superman Superman in Man of Steel), he will be responding to the devastation that Zod's World Engine wreaked in the Indian Ocean.
That seems pretty logical, and in keeping with Aquaman's portrayal long before the New 52 -- which actually was one of the best runs the character has had. Momoa is a far cry from the blond blue-eyed anomaly of the Atlantean race, but then again, would there be time for any of that to matter in a movie?
No, he's a choice that goes along with the grim and gritty "try to treat it realistically" approach of Zack Snyder and David S. Goyer. But the great thing about Momoa, if the script and director allow it, is that he can be terribly intimidating and tremendously charming (watch his performance in Conan the Barbarian, which was a good anchor in a bad movie). That quality would be perfect for Aquaman -- at least the one in my head.
Let's all stop asking Momoa until July 28th, because it's quite probable that Warner Brothers wants to do what Marvel did with the Avengers at Comic-Con a few years ago -- officially unveil the Justice League in San Diego.
Cavill! Affleck! Gadot! Common! Momoa! And Stephen Colbert as Plastic Man! (No, but wouldn't THAT be great?)