Counting Down
The Marvel Vs. DC Game of Chicken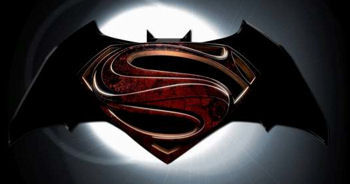 Right after the incredibly successful opening of Captain America: The Winter Soldier, Marvel Studios confirmed that Captain America 3 -- whatever its subtitle may be, I'm hoping for Man and Wolf -- will take the opening date of May 6, 2016.
Which probably sounds familiar, because that date had already been announced by Warner Brothers as the one they were using for Batman Vs. Superman, after they had relinquished a summer 2015 slot. (That, by the way, was allegedly because of an injury suffered by Ben Affleck that delayed filming. I'll buy it, and begrudgingly admire the loyalty the studio shows to him if that's true. And again, I think Affleck is one of the right choices they've made.)
But wait a minute -- that means that weekend is really Captain America vs. Superman vs. Batman vs. some as of yet unannounced lightweight romantic comedy that may or may not feature Kristen Bell! That cannot happen! Somebody has to blink!
Not yet.
In a statement released to the AMC Theaters website, Warner Brothers President of Domestic Distribution Dan Fellman offered...
"It doesn't make a lot of sense for two huge superhero films to open on the same date but there is a lot of time between now and 5/6/16... However at this time, we are not considering a change of date for 'Batman vs. Superman.'"
So of course the studio knows this is madness. Yet neither one shows signs of blinking. Yes, Mr. Fellman, there is a lot of time between now and 5/6/16... but if I am betting that if I were to take an informal survey of Planeteers, the movie they'd want to see is Captain America.
They might see Batman vs. Superman the same weekend, but Warner Brothers has everything riding on not only this being a good movie (possible -- anything's possible) but also on it being #1 at the Box Office on opening weekend. On the weekend of 5/6/16, that's just not possible.
So start that informal survey on our Facebook page -- which Nate Costa asked of us internally -- which movie would you see first, and are you going to see both on opening weekend?