Writer/Artist Dave Cockrum Hospitalized
Tribute Book Planned For Creator of Nightcrawler and Many Others...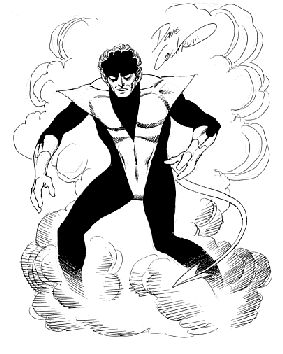 One of Cockrum's best-known designs...
I received a call for help from writer Cliff Meth this morning, via Fanboy Planet contributor Jason Sacks. Dave Cockrum, probably one of the most influential artists in modern comics when I was at my most impressionable, had been hospitalized.
Dave Cockrum. One of the first comic books I remember consciously buying -- not just having handed to me by my parents -- was Superboy and The Legion of Superheroes #202, featuring "The Wrath of the Devil-Fish." Art by...Dave Cockrum, spawning a life-long love of the 30th Century heroes.
Later on, Cockrum left DC to work at Marvel for a while, where he pencilled the most famous comic book of the last thirty years -- Giant-Sized X-Men #1, written by his friend Len Wein.
As all too often happens to the people that gave us so much joy in our childhoods, Cockrum and his wife have been caught in some financially trying times. So Meth and a bevy of creators are getting a tribute book together. They're not alone in helping Cockrum out; Joe Quesada let us know this morning that ACTOR had been informed and would be giving aid.
So do two things: contribute to ACTOR if you can now, and buy the tribute book when it materializes.
Here's the press release from Cliff Meth:
Dave Cockrum has been hospitalized with a severe case of double pneumonia, as well as a bacterial infection in his lungs and his blood. He is in stable condition and is being cared for at the Intensive Care Unit at Bronx Veterans Administration Hospital in New York.
Cockrum, who made his professional debut in 1973 on DC's Legion of Superheroes, became one of the last members of Marvel's legendary Bullpen where he revamped the then-canceled Uncanny X-Men. The characters he personally designed include Nightcrawler, Colossus, Storm, Mystique, Phoenix, ThunderBird, The StarJammers, and The Futurians.
A tribute book to benefit Cockrum is in the works. Contributors include Murphy Anderson, Chris Claremont, Peter David, Harlan Ellison, Tony Isabella, Johnny Romita, Len Wein, and Marv Wolfman. A benefit auction is also being planned.
People who do not know Paty Cockrum personally are asked to please not call her home. Cards are welcome and can be sent to:
Dave Cockrum c/o
Bronx VA Medical Center
130 W Kingsbridge Road
Bronx, NY 10468
For more information, contact Clifford Meth, cliffordmethod@yahoo.com.