Your Man @ Marvel Crosses Over...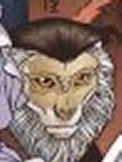 CrossGen spokesperson PoPo is very pleased to announce that
Bill Rosemann is "...all about the monkey."
This really shouldn't have come as a surprise. Once Bill Rosemann left Marvel to move to Florida, any fan with a sense of conspiracy could see the writing on the wall. Except, legitimately, Rosemann really did move for family reasons. It would just have been foolish for CrossGen Comics not to go fishing for this guy sitting in their backyard.
CrossGen has always done what it could to lure top talent into its stable, both creative and managerial. And in Bill Rosemann, they have both.
It's about time, too. As CrossGen has expanded, they've needed someone to help shoulder the load editorially.
From CrossGen:
From Major League Baseball to NCAA football,
the sports world has recently announced many key talent acquisitions, and now CrossGen Entertainment has added to the signing spree by landing industry veteran Bill Rosemann.
Fresh off a 10 year run at Marvel Comics, Rosemann has joined CGE's expanding team in the newly created position of Director of Marketing Communications.
Rosemann will take over the duties held by Director of Corporate Communications, Ian M. Feller, allowing Ian to move full-time into the role of Code 6 Comics Managing Editor. As part of the newly-created position, Bill will oversee media relations, advertising and step into Ian's shoes to become CrossGen's primary public relations voice and liaison to the press corps. In addition, he will be responsible for organizing CrossGen's section in Diamond's Previews, among other marketing tasks. Rosemann will officially join CrossGen on February 24, 2003.
"Bill's track record speaks for itself, and the idea that someone of his caliber would just suddenly become available seemed absurd to me," said CrossGen Vice President of Product Development Tony Panaccio. "As Ian evolves into his role as Managing Editor at Code 6, and I continue to get pulled in different directions by Bridges and other mass market projects, the necessity for a guy like Bill has become apparent in recent months. What is wonderful is that we didn't have to settle for someone like Bill Rosemann. We got the real deal, and we could not be happier."
"Bill is an amazing talent and a guy that everyone in comics knows and respects, including me," said Feller. "I feel completely confident that Bill will raise the level of this company's exposure and will easily fill the shoes I previously wore. And now that he's here, I can finally focus my full attention on Code 6 and sift through all the submissions that have been piling up for the past six months."
"Unlike that fumbling fool, Boon, this Rosemann possesses a spark of intelligence," commented Po Po, the monkey mentor of Boon Sai Hong from the monthly series Way of the Rat. "Plus, I am told he admires my simian brethren, which pleases me."
"Oh, I'm all about the monkey," replied Bill.
Previous to joining CrossGen, Rosemann served as Marketing Communications Manager for New York based Marvel Comics. For nearly a decade, Rosemann steadily climbed the company's ranks, beginning as a freelance writer for Marvel Age magazine and eventually making his way through the sales, advertising and marketing divisions. Known by fandom as "Your Man @ Marvel," a (not so) secret identity he created to give readers a behind-the-scenes
look at the publisher, Rosemann also penned Deadline, a critically acclaimed murder mystery.
"For the last three years I've been impressed by CrossGen's focus on imagination, integrity and innovation," stated Rosemann. "Their exploration of mainstream genres, their commitment to delivering stunning visuals on a timely basis, their development of trailblazing programs such as Comics on the Web, the Compendias, Bridges, and their inserts in Cinescape... these are all actions that I, as a fan of the entire industry, respect. Actually, 'respect'-- for creators, retailers and readers -- is a guiding principal here, and not only does this company have heart, but it also has long-term plans to continue comics' return to the pop culture radar screen. And that,
my friends, is a combination that I'm excited to be a part of."
"In fact," Rosemann concluded, "From now on, you can just call me Your Friend @ CrossGen!"