Here Come The Creepy Freaks...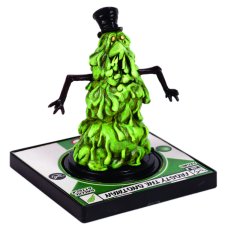 There must have been some magic in that old top hat they found...
We'll be taking a closer look at this game in the coming months mainly because, yes, we really really like HeroClix, and want to see if WizKids can hit another game out of the park.
And we like the name. Only time will tell if the game can match that.
Already, though, it's a good move to lower the price point on this game, in a package that combines a couple of different things that we all know kids want.
WizKids, LLC is taking a walk on the creepy side with the release of Creepy Freaks(tm), the company's first game aimed at younger players.
The theme of this fast-playing, 3D collectable game is gross, scary, disgusting fun. In the battle to crown the creepiest freak of all, the game taps into gross humor kids love.
"I like to think of Creepy Freaks as the 'Garbage Pail Kids' of this generation-gross enough for kids to enjoy, but in a tongue-in-cheek way that parents can appreciate," said Jordan Weisman, founder and CEO of WizKids and creator of the Creepy Freaks game.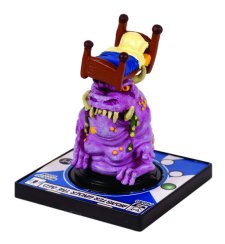 By day, it's an IKEA storage cabinet...

Creepy Freaks characters include Frosty the Snotman, with his special Chunky Sneeze attack; the hairball-spitting Spitty Kat; and even SkeleHomie, whose slingshotting skull splatters brains and eyeballs all over his tabletop victims.

Though the characters confront each other with increasingly nauseating imaginary moves, the game is geared toward nonviolence. The object is to scare opposing figures in Freak Out(tm) contests, and send them running away in horror.

"We conducted extensive playtesting and focus groups with scores of kids and parents to find out what grosses them out the most, and we think we've definitely created a very fun game," added Weisman.

The game characters are also fully collectable and tradable, like the cards in popular collectable card games. There are 56 of the funny creepy freaks available, and each one is grosser than the next.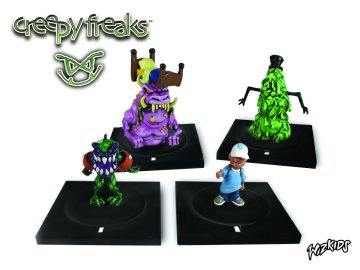 But will the kids buy it?

To support the release of Creepy Freaks, WizKids will be launching its first-ever television advertising campaign, with commercials planned to air on Nickelodeon, Cartoon Network and ABC Family.

Creepy Freaks will be available at leading retailers nationwide this September. It will be sold in Starter Sets and booster packs. Starter Sets will each contain a kid Freak Leader figure, three creepy freak figures and everything needed to play, including an eye-popping DVD cartoon explaining the world of the creepy freaks and the rules of the game. The suggested retail price will be $12.99. Booster packs will each contain two creepy freak figures and stickers, and will retail for $4.99.