Third Time's The Creeps... I think I heard rumors about this at Comic-Con. It may be hard to fathom, but this project seems to be so under the radar that the Internet Movie Database has nothing -- NOTHING, I tell you -- on it at all.
At all.
Creepy.
But today in my mailbox came an e-mail from someone close to the production with some information, a logo and a nice still. So...
Principal photography has just finished on the third film in the franchise started by the team of Stephen King and George A. Romero. Though Romero had been interested in working on a third Creepshow, we have no information on whether or not he now has any participation. Just as in previous installments, the movie follows an anthology format, with five stories interconnected, according to our scooper, "...in some creepy fashion."
The aptly named CreepyFilms company has produced the film shot on the backlot of Universal Studios. Special FX and make-up will be done by Greg McDougal,who has worked on War of the Worlds, Seed of Chucky and several recent Stan Winston productions.
Ana Clavell and James Dudelson co-directed. If Dudelson's name sounds familiar, it's because he's been attached to produce the remake of Day of the Dead in addition to a prequel/sequel called Contagium.
We thank our scooper for the news. The first two Creepshows were fun. Here's hoping the third time remains the charm.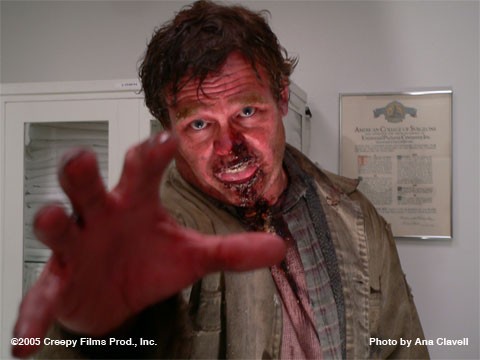 Please, watch my movie or I'll rot before your eyes...