Last Comics Artist Standing!
Platinum, Top Cow and NBC affiliate
launch Comic Book Challenge at San Diego Comic-Con!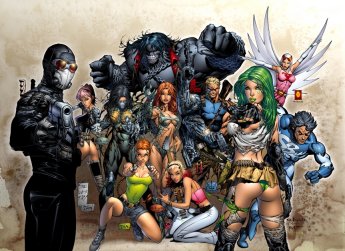 Which one will you draw?
Do you want to break into comics? Top Cow wants to help.
Heck, if you've read any Top Cow comic in the last few months, or any issue of Wizard, you've been aware of Marc Silvestri's commitment to finding new pencilers and/or inkers. But now with Platinum Studios, Top Cow's link to the rest of the entertainment industry, the publisher is taking it to a whole new level at this year's Comic-Con in San Diego. They've also got Gale Anne Hurd aboard, which gives the whole thing a really nice vibe (I believe Hulk was beyond her control).
Read the press release below, check out the commercial Platinum provided us with, and start working on that portfolio!
From Platinum Studios:
Aspiring writers and artists nationwide are invited to submit their work to Platinum Studios, an entertainment company that controls the world's largest independent library of comic book characters, and San Diego's NBC 7/39, search for the hottest comic book concept – the Comic Book Challenge. The winner's comic concept will be developed for print, online, film and TV.

New and unpublished comic book creators can submit their ideas online at www.ComicBookChallenge.com through July 5, 2006. The top 50 semi-finalists will pitch their concepts live at a secret location near NBC studios in San Diego on July 20, the first day of the San Diego Comicon, to a panel of industry professionals. The panel will include Marc Silvestri, founder and chief executive officer of Top Cow Comics, Gale Anne Hurd, producer of over 25 movies including "The Terminator" series, "The Hulk", and "The Punisher" and Scott Mitchell Rosenberg, chairman of Platinum Studios and founder of Malibu Comics, where he discovered and developed "Men In Black" into a billion dollar entertainment franchise. "Men in Black" itself was written by a previously unpublished comic book creator, highlighting Rosenberg's belief in new talent.

"If you think you've got the best new idea for a comic book character or story, we urge you to submit to Comicbookchallenge.com," said Rosenberg. "It is very hard to break through into comics and get noticed by industry luminaries. The Comic Book Challenge allows creators and aspiring fans a new opportunity to get their concepts reviewed and turned into an entertainment property."

The top three finalists will appear on NBC-TV 7/39's "Streetside San Diego" on July 21 to pitch their comic vision to local audiences. Comic book fans around the world will be invited, starting midnight on Thursday July 20th, to vote on their favorite of the three finalists at www.comicbookchallenge.com.
Voting will be open from Thursday night until midnight on Sunday July 24th. The winner's comic book concept will be published by Platinum Studios and premiere in print in March of 2007. In addition, Platinum Studios will work with the creator to develop the property for film and television.