Marking Time by Chris McCaw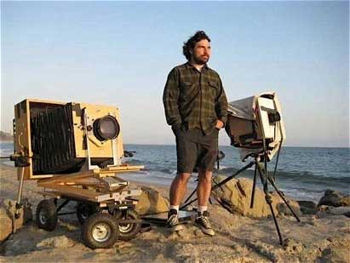 Long-time listeners of the podcast may be aware that my brother, Chris, is a photographer of some growing renown. This week he rises to a new level with the opening of a new exhibit of his work in New York City at the Yossi Milo Gallery, 245 Tenth Avenue.
Called "Marking Time" and coinciding with the recent release of his book Sunburn, the exhibit showcases his work in a unique form of photography.
He does not develop film; rather, his images are burned right into the photographic paper by his lenses.
And when I say "burned," that's also because the sun itself burns holes in the paper. Thus his photographs become like paintings; yes, they could be reproduced in books or prints, but the thing that made the original work unique cannot be replicated.
It's also been a bit of a spiritual journey. As he mentions in his book, "This project has transformed the way I think about photography and the world. During all this I have become attuned to the reality that we're all running around on a spinning marble orbiting a fiery ball."
My brother runs well on the spinning marble.
Marking Time opens November 29, 2012 and closes January 19, 2013. Copies of his book are still available on Amazon.