Raiders of the Last Ark
photo credits: Ric Bretschneider, Christopher J. Garcia, Derek McCaw and David Tapia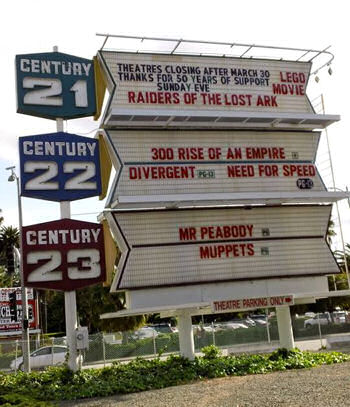 SAVE THE DOMES petition:
http://www.change.org/petitions/save-the-winchester-domes
On March 30th, 2014, the lights went out on Century 21.
If you did not grow up in Northern California, maybe that won't mean much to you, or you'll wonder why I'm writing about a real estate company. Well, a real estate company is involved, but that's not what I mean by Century 21. I'm talking about a gorgeous theater dome, a landmark, built in 1964 to showcase Cinerama and really be what people meant by "the big screen."
Meant to be "space age" in the sixties, Century 21 spread. Next to it is a triple dome, Century 22, and across the street is Century 23. Already demolished were Century 24 and 25, in different locations. And domes up in Fremont and other places have been long gone.
All good things come to an end, perhaps. And despite many people's efforts, there was no saving these last theaters as theaters. Today, the Cinemark Corporation comes and starts emptying out the domes. But that didn't mean it couldn't go out with a party full of respect and love for a place that was as much a landmark for locals as the looming Winchester Mystery House just a few hundred yards away.
And the way to party -- perfect for me, anyway -- was to go out with a showing of Raiders of the Lost Ark, a movie that I had taken Bus 23 to see first showing on opening day, back when people weren't quite as tuned in to the up and coming spectaculars. But that fantastic summer of 1981 started with the crack of a whip and the introduction of Indiana Jones.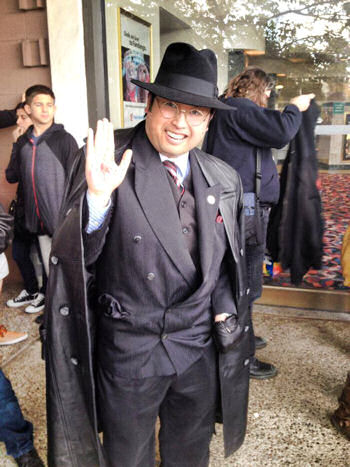 Just like the heyday of the Centuries, the line started hours ahead of time. (For those who could not stay up late or wanted to give their kids one last experience of Century 21, the daytime schedule went from The Lego Movie to A Bug's Life to Finding Nemo.) People had their campsites, and the line went around to the back in a way that San Jose Mercury News columnist Sal Pizarro told me he hadn't seen since maybe The Return of the King. And then that blew my mind that that's been ten years already.
Of course there was cosplay, with many dressed as Indiana Jones. But give it up to Dale Tolosa of Daly City, who not only dressed as Toht but ended up in the pre-show trivia contest enduring a shot for every right answer his opponent got.
Once one of Spielberg and Lucas' favorite places to sneak their movies, the Centuries had also been among the first to convert to digital projection, but this night -- it was back to glorious 70mm film.
Some people had not been aware that this last night was billed as a "Quote-along", run by The Retrodome, a local group dedicated to fun film revival and live stage shows. So getting handed a plastic neon fedora -- way too small for the Zorlak's head -- and a bag of props came as a surprise.
And inside, it was like the old Day on the Green, but for film fans. Beach balls floated around, people screamed and laughed and waited, and all pretended it wasn't the last night for Century 21.

Host Shannon Guggenheim thanked everyone for coming, then gave us an update on the fate of the theaters -- there's still time for them to be given historic landmark status, but it's a race against the wrecking ball. There's a slight chance the building could be repurposed, but even so, it doesn't seem like it will be a theater anymore.
And then, finally, the lights went down. I was 15 again, munching popcorn and waiting for greatness to begin. It's been at least twenty years since I've watched anything more than clips from Raiders of the Lost Ark, and sequels had dulled my memory. Still the best, the tightest and most relaxed of all the franchise, seeing it projected on film was a great experience.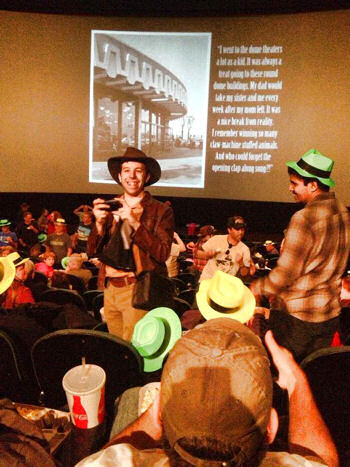 For the rest of the audience, too, it seemed. Everybody had props, but few used them. What had been intended as a quote-along turned into a hushed reverence, as it sunk in that there would be no more great movies playing at Century 21.
At the end of the film, the lights came up and people just didn't want to go, seeing old friends and just wanting to share stories about their memories of the place. I left walking through crowds of people looking up and taking pictures of the theater's neon sign, wanting to be there for the last glow.
Maybe it's because I was inspired by finally sitting down and chatting with Harry Knowles a few weeks ago, but this hits me harder than I thought it would. Aside from getting dragged to two G.I. Joe movies by friends, I really had not gone to the Centuries for years. But my then two-month-old daughter got dragged in to see The Phantom Menace, and I had taken my nieces and nephews there for Lucas' special editions of the first trilogy, because there was no better place to see Star Wars.
Other cities have treasured their pasts, and found a way to integrate it into more modern design. In this case, the domes sit on a huge lot that developers would love to turn into some sort of shopping/living amalgam, similar to one nearby.
But while that would bring people, it doesn't create community. That just divides people into small groups in different shops and restaurants. It doesn't bring almost a thousand people at at time to sit in the dark and experience adventure, romance and thrills. Witness the note posted on the glass door of the Century 22, and thanks to David Tapia for taking the picture and sending it to me: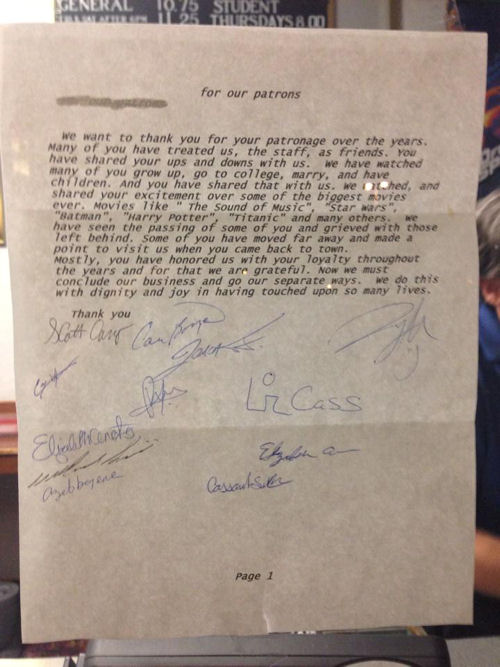 When you're a regular at a place, you're known. Your family is known. And for some of us, movies are just such an incredible place to experience community.
In Los Angeles, they saved their Cinerama Dome in Hollywood. So far, the movie palace of Westwood, the Village Theater, has managed to survive. One old palace in downtown San Jose can still show movies -- the California -- but other marquees hide either husks or an indoor rock-climbing palace.
And back to Harry Knowles -- coincidentally or not, when Aint It Cool News started up, there was also a burgeoning movie scene in Austin to match its music and comedy scene. It's a city that has thrived supporting its landmarks, treasuring its past to feed its future. It's only gotten bigger.
Due to budget cuts, San Jose dissolved its film commission, but does support the excellent film festival Cinequest, which admittedly is a distance away from the domes. Yet this is a sprawling city with so much potential, and the Century Domes could still be a part of that. Big movies didn't just play there; big name directors liked seeing audiences see their movies there.
And last night, I loved seeing Raiders of the Lost Ark again.