The Superhero Movie Trend Continues...
News on Batman: Intimidation, Elektra, and The Lone Ranger's nephew...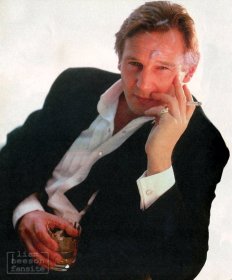 Prepare for desolation...
It's a busy day for fans of superhero movies. Or at least, it's a busy day of confirmations. The related films may or may not actually excite you.
First up, rumors of Liam Neeson's involvement with Christopher Nolan's Batman: Intimidation (now sans the word "game") have been confirmed by Variety. Putting two and two together, it appears that Neeson has the role of R'as al Ghul, the only Batman villain that could easily transplant himself into a Bond movie. UPDATE: Variety has corrected itself -- Neeson has been cast as Henri Ducard, a mentor to Bruce Wayne. So who the heck is playing R'as al Ghul? Is this just going to be some sensitive coming of age drama, A Batcave With A View?
Joining Neeson in the cast, though not necessarily in any scenes, Morgan Freeman will assume the mantle of Lucius Fox, in the comics the CEO of Wayne Enterprises. Continuity fans may be jumping up and down seething, as allegedly this film will be a reboot of the Batman franchise, rather than a continuation. If so, this then places the immortal megalomaniac as crucial to Bruce Wayne becoming Batman, rather than just being his most dangerous and patient foe.
The two actors come late to a party that includes Christian Bale as Wayne, Michael Caine as Alfred Pennyworth, Cillian Murphy as The Scarecrow and Katie Holmes as a mysterious love interest - possibly the daughter of al Ghul, though she is not named Talia. Shooting is currently scheduled to begin on March 16.
In other developments this week, Fox is trying to put the proposed Elektra movie into high gear. Producer Mark Steven Johnson wants Rob Bowman, director of X-Files: Fight The Future, to direct the Zak Penn-penned script that will explain how Jennifer Garner survived death at the hands of Bullseye in Daredevil, and how her career survived Dude, Where's My Car?. Obviously, the script will incorporate a lot of Frank Miller's Elektra: Assassin, but since Daredevil left a lot of fans underwhelmed, it's hard to get too excited.
Yesterday, a guy who made a lasting impression on Daredevil has finally decided to go forward with putting a masked hero onscreen. Miramax tapped Kevin Smith to write and direct The Green Hornet, a project that has been on and off again more times than Ben Affleck and Jennifer Lopez.
Smith did write an almost legendary script for Superman Lives!, but this time he'll have much more artistic control. As he points out, The Green Hornet is a character that few people will actually have a pre-conceived notion about, except perhaps that Bruce Lee played Kato.
No official casting has gone along with Miramax' announcement, but Smith would like George Clooney as Brit Reid (the Hornet) and Jet Li as Kato. Both actors were attached to the project at different times.