Captain America Spends His Spring
In Tomorrowland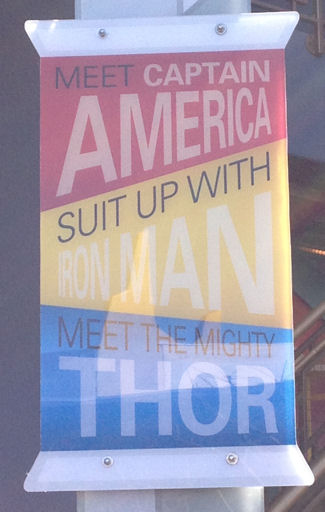 It started with "Stark Expo," a small incursion into Disneyland by Marvel that you could have missed if you didn't know what you were looking for. Then the powers that be realized, hey, Disney fans were hungry for those Marvel characters, and the Stark Expo that was scheduled to go away simply... never did.
Then last fall, Odin agreed to a cultural exchange, and the Treasures of Asgard appeared next to Stark Expo while maintaining a safe distance from the Disney Infinity exhibit. If you waited in line long enough, you could be transported to Asgard and meet a very avuncular Thor.
Opening last week, and not quite as complex as the Treasures of Asgard, the living legend Captain America has now joined his compatriots from the Avengers at Innoventions, and yes, Disney has cannily put out the call for Avengers to Assemble.
Iron Man and Thor are to the left when you enter, and Captain America seems to be RIGHT THERE to your right. For right now, however, a cast member helpfully guides/forces you to the left.
You have to walk all the way around Innoventions to circle back to the queue to meet Cap. Perhaps if you haven't experienced the rest of it, you might stop and get in the line for Thor, or be lured by the charms of the XBox One exhibit that has displaced Disney Infinity. Or maybe you'll play one of those interactive health things that I couldn't be bothered to stop and get the names of because CAPTAIN AMERICA.
Finally you make it back around to the starting point and can get in the line, underneath this glorious sign:

Unlike Treasures of Asgard, there really isn't a lot of ancillary stuff to show that wouldn't be classified. So as you wait in line -- which actually moves pretty smoothly and relatively quickly -- Disney just offers up reminders that yes, you are waiting to meet Captain America.
My favorite part about this was a father wearing a Captain America shield t-shirt, cautioning his youngest daughter that Captain America probably would not really want to hear about the Captain Ameribear she had just bought at Build-a-Bear.
Which, by the way, IS a real thing and conveniently located in Downtown Disney. Not that I got one, but as I often have to stop and marvel, I've lived long enough that you can get a Captain Ameribear.
And I think that father, while well-meaning, was totally wrong. So far at these exhibits, I have found the cast members to be never less than enthusiastic and patient with parkgoers, and especially so with young children. I'm pretty sure Captain America would have had something cool to say about Captain Ameribear.
Once deep into the queue, the art direction gets a little more complex. Along the exit wall hangs a grouping of shields, ostensibly all the prototypes before the famous red-white-and-blue circular one.
In a display explaining the Super-Soldier Formula, a lenticular panel allows you to compare height and build of Steve Rogers before and after Dr. Erskine's experiment.

They also explain Captain America's current strength levels, something alluded to in the opening few minutes of Captain America: The Winter Soldier that Marvel leaked online last night.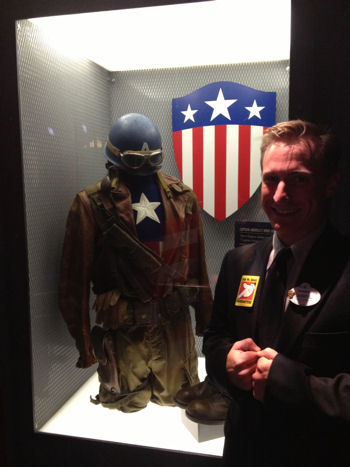 To the right is a timeline of events, somewhat truncated by virtue of, again, what would be public knowledge in the Marvel Cinematic Universe, and in reality, not a lot of fleshing out happens between movies. It does hint, however, at the new threat of the mysterious Winter Soldier, without spoiling anything that lies ahead if you are not aware of comics continuity. And really, it's still likely that the majority of people pouring through love these characters because of the movies.
Straight ahead, a helpful cast member awaits to usher you in to the photo op area. Standing in front of a display case with Cap's World War II uniform, the cast member wears a tasteful dark suit, and perhaps we can pretend he is an Agent of S.H.I.E.L.D. pulling public relations duty.
However, the guy there that I talked to didn't go for it. Perhaps he was undercover.
Turn the corner and there he is -- the Living Legend of World War II, impressed back into his duties as a public relations agent. He plays along well, suggesting a pose for the photo, with cast members taking a few shots which they scan onto a souvenir card to be picked up later on Main Street.
Oh, they'll use your camera, too, but then you won't be looking at it when they take the picture. Clever, clever Disney.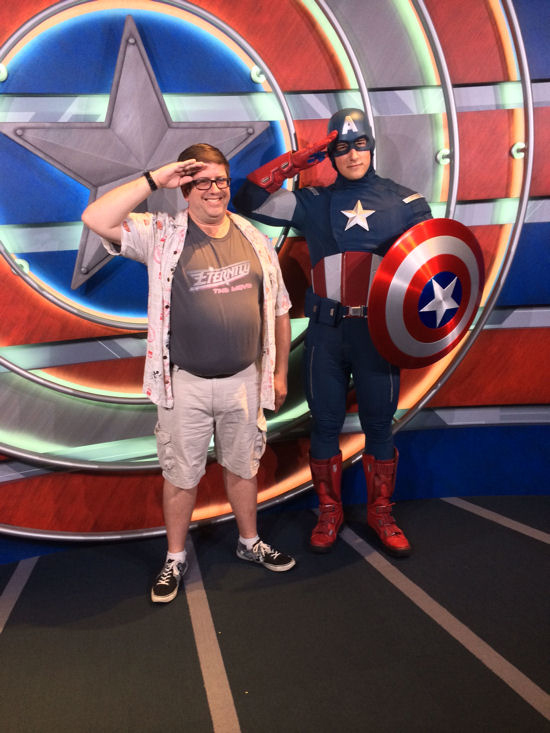 Still, it's air-conditioned, which ironically beats the line for Anna and Elsa over in Fantasyland. These meet and greets prove the hunger for Marvel at Disneyland, but who knows where it's going to go? I keep hearing rumors that Innoventions does not have many years left, but creating an official Stark Expo somewhere in the park makes a lot of sense in the long term.
And whither Star Wars? Well, let me start a completely unsubstantiated rumor: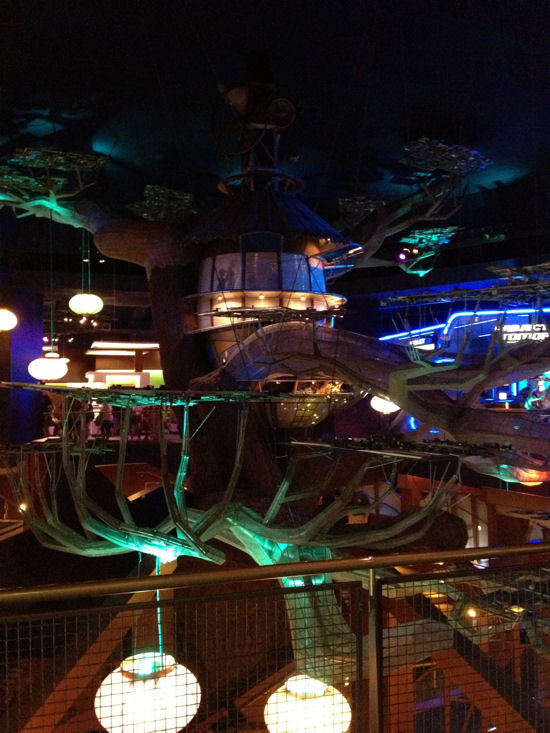 You know, they could build on the infrastructure of that cyber-tree and repurpose it into, say, part of an Ewok village...sure beats the Microsoft home of the future that's already there and not quite that futuristic anymore...