Singer Confirms Superman Casting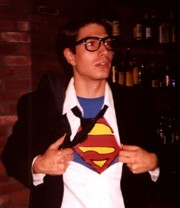 Routh last Halloween.
See, kids? You can grow up to be anything you want, provided you look like Superman.

Talk about a dream come true for one actor.

According to Aint It Cool News, Bryan Singer himself finally confirmed last night the rumors that had been flying since Sunday -- and which Warner Brothers has not yet made official. (We held off, being a little gunshy after our Invisible Woman debacle.) The director has cast relatively unknown actor Brandon Routh as Superman for the upcoming Warner Brothers film. This follows a pretty exhaustive search over the past few months that auditioned just about anyone who might look even vaguely not ridiculous in tights.

Our erstwhile Smallville reviewer, Sarah Stanek, may have an opinion on Routh's casting, as one of his highest profile roles to date has been guesting on Gilmore Girls.

While casting an unknown had long been considered Singer's preference, the studio had allegedly made him test guys like Brendan Fraser and Jim Caviezel. But it makes sense. After all, who had really heard of Christopher Reeve before he made Superman his own? Heck, who had heard of Hugh Jackman before he completely altered our vision of Wolverine?

Now the big question is who Singer wants to play Lois. Our friends over at Cinescape may have the scoop. They claim the list has been narrowed to six actresses, many of the refugees from Fox and WB teen dramas. They include:

Mischa Barton (The O.C.)

Charisma Carpenter (Angel)

Mia Kirshner (Not Another Teen Movie, The Crow: City of Angels)

Evangeline Lilly (Lost)

Natalie Portman (some crappy sci-fi stuff)

Keri Russell (Felicity)

Interesting choices, if true. At any rate, Singer has confirmed that his film will try to be hazily connected to earlier incarnations, possibly acknowledging the first two Reeve films, wisely ignoring III and IV. Superman will have been absent from public life for a period of time, returning to a world that may almost wish he had never been. If it sounds a little bit like a lift from Bruce Timm's and Paul Dini's animated series, that may not be an accident. Singer does research his source material pretty heavily.

Like the choice? Hate it? Talk about it in the forum!