Inside The BOOM:
Mel Caylo Takes Us Through BOOM! Studios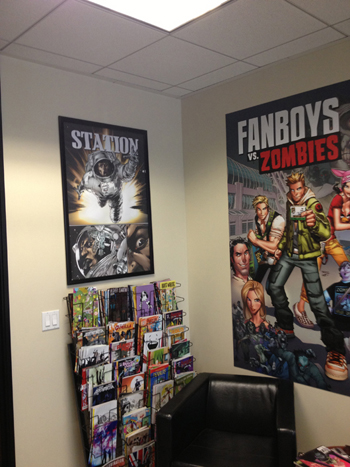 No time to sit, but it looks pretty comfy in the waiting room...
Fridays are busy. That's the day the production team at BOOM! Studios uploads their books to the printer, and of course, anybody who has ever worked in an office knows that despite the best planning, there's always going to be just an edge of scramble.
But this isn't an ordinary Friday. This is August 2nd, 2013, the day that Universal Studios' 2 Guns opens, a big-screen buddy movie starring Denzel Washington and Mark Wahlberg that just happens to be adapted from Steven Grant's graphic novel of the same name (with great art by Mateus Santolouco). And THAT happens to be published by BOOM! Studios, so many of the employees are still buzzing from having attended a screening at Universal Studios the night before.
Plus some Cartoon Network reps have stopped by and... wait a minute, there's a problem with a shipment of books to a convention in Boston?
Yet nobody's breaking a sweat. Everybody's extremely friendly, and the vibe in the office, rightfully, is... happy and welcoming. Archaia and now BOOM! Studios' marketing manager Mel Caylo looks over when I peek in the door and breaks into a big grin. CEO Ross Richie even looks up from talking to the Cartoon Network reps and waves hello.
It might be crunch time, but they still said I could come over and play for a few minutes, so no way was I going to miss a walk around the office.
We're probably past the point when we can call BOOM! Studios an up and comer, or a little publisher that could. But it is amazing that Richie could have started this company in his spare bedroom in 2005 and come this far this fast. With the acquisition a few weeks ago of Archaia Entertainment, BOOM! has added to an already impressively diverse roster of titles and concepts, but what's even better? They're all pretty damned good books, and though it may have taken a Hollywood adaptation to do it, the mainstream media seems to be catching on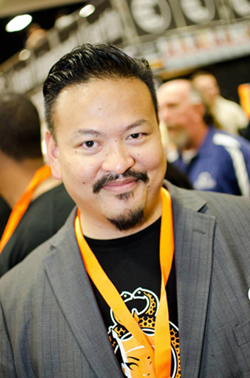 Mel Caylo, dashing around Comic-Con..
So Caylo found us a seat at the conference table to talk about what there is to catch on to -- and as I've said, it's a lot. We struggled to find a name for the melding of two companies -- ArchOOM, BOOchaia? - but they're really such strong imprints in their own right.
It's been a smooth transition, as Caylo offers that BOOM! Studios VP of Marketing and Publishing, Filip Sablik, was an old friend from working together at Top Cow years ago. Still, he admits that when you do marketing for a publisher, you have a tendency to be familiar with their books over everyone else's so in joining BOOM!, "I'm not as brought up to speed on a lot of their stuff, but I'm catching up!"
I told him I was more in the opposite camp -- though I'd heard of Mouse Guard and that week bought The Reason For Dragons, I was far more familiar with BOOM! Studios' output. So what books should I be excited to discover, and what books was he excited to have discovered?
"I recently read a bunch of titles," he smiled. "Daymen #1, that just came out a week or two ago. It sold out, second printing is on its way. It's actually written by our in-house Editor-in-Chief, Matt Gagnon. So I checked that out, loved the premise, can't wait to see..."
Then he leaned forward with a conspiratorial air. "Actually, I have issues two and three sitting on my desk right now, waiting to be read. So I've got to get to that, and sorry I can't show you..."
We laughed.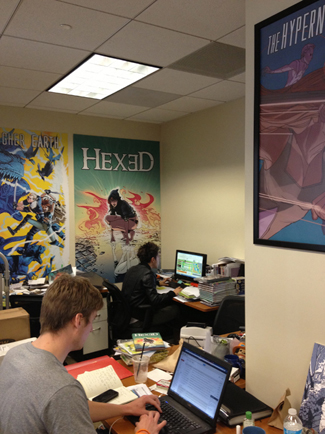 Things humming in the office...
"I read the first trade for Deathmatch, the Paul Jenkins book. Have you read that?" he asked. I admitted it had come up on the CarrCast, where Carr D'Angelo mentioned that he thought it was a great book that people were not quite finding as they should have.
"It's great," he laughed. "You should definitely catch up on that!"
"Polarity, the Max Bemis book. I just read the first issue." Caylo got serious. "I'm just so pleasantly surprised, not just by finding the licensed books that BOOM! does, but the creator-owned that they do."
"It's refreshing," he continued. "Going into this merger-slash-acquisition, however you want to label it, I wasn't as up to speed on a lot of BOOM! titles. Quite honestly, when you're working at a publishing company, you don't get a chance to read a lot of other publisher's books. You're just so busy with what you're doing, all the stuff I had on my plate. It's a poor excuse, I know..."
"No," I replied. "I looked at Archaia's website last week, probably for the first time. I'd read Return of the Dapper Men, and then I look at the site and... it's HUGE! I had no idea all those books were Archaia!"
"We have upwards of a hundred titles," Caylo agreed.
"So I can understand that while you're in there," I assured him, "that's pretty much all you can do to keep up."
"I have a reading pile by my bed that's probably chest-high," he said. "Well, not literally chest-high..."
"If it's not," I laughed, "you're lying to me. We've all got that problem."
But back to BOOM! --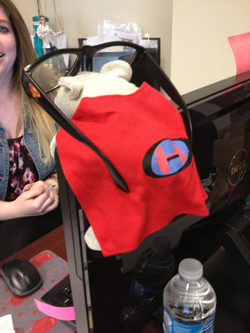 mild-mannered polar bear by day...
"I'm obviously catching up on Adventure Time and I'm really looking forward to the next Peanuts trade," he paused. "And I would be remiss not to mention 2 Guns... that was one of the first trades I read when I got here."
We got to a recent BOOM! acquisition that's one of my favorites -- Herobear and the Kid. Years ago when it was self-published, it was simply the best kids' book around. I'd even bought my children the Herobear beanie toy, and when the book showed up at Free Comic Book Day, my son was excited to see it return.
So are they going to keep creator Mike Kunkel on track?
"Mike has a renewed vigor in the property, and he's totally gung-ho about publishing it through BOOM!," Caylo nodded. "And right now, last weekend I was just trading emails with someone about the upcoming annual. The annual itself wasn't really on the schedule, but Mike is such a big fan of Halloween, that he asked us if he could do a Halloween special. Instead of calling a special, we're calling it an Annual #1, in case he wants to do something again next year."
Then he taunted me again. "I've seen pages. It looks fantastic."
The kids' imprint KaBOOM may just be the best kids' line around, but BOOM! obviously has a great track record with books for older readers, and intriguing work with licensed properties. Just this month, they've launched the adaptation of Frank Miller's original script for Robocop 3.
We'd sat enough, and it was time to move through the offices.
First you have to get past Brianna Hart. Like many front-deskers, she wears many hats, serving as Marketing Assistant and Executive Assistant to Ross Richie. I did not have time to ask her what's really going on at the company, but no doubt, she's the person who knows. Plus she has the Herobear beanie on her monitor, but no, unfortunately, BOOM! does not have plans to relaunch that small toy. How about you, Mr. Kunkel?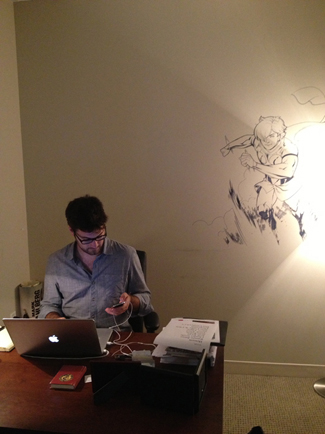 Stephen Christy,mild-mannered perhaps, but working on exciting new opportunities..
The offices line a long hallway, festooned with posters, photos and action figures. But obviously serious work gets done here; it's just that their serious work does entertain so many readers. In the back there are shelves and shelves of their actual output, but up front it's working to put that all together.
Something is happening in every office, whether it be Bryce Carlson taking a look over this week's uploads, or Ross Richie behind closed doors. Former Archaia Editor-in-Chief and now BOOM! VP of Development Stephen Christy is still settling in when we stop by, but already his office has the most prized decoration of all -- an original sketch drawn directly on the wall by Cyborg 009 (hitting stores September 10) artist Marcus To.
They also have a great balcony -- if you can get to it. A post-it note on the wall indicates the path to the outdoors as the "Intern Obstacle Course," but that's more and more ironic each day. Critical acclaim, commercial success, and now major motion pictures.
For Boom!, there just don't seem to be any obstacles left.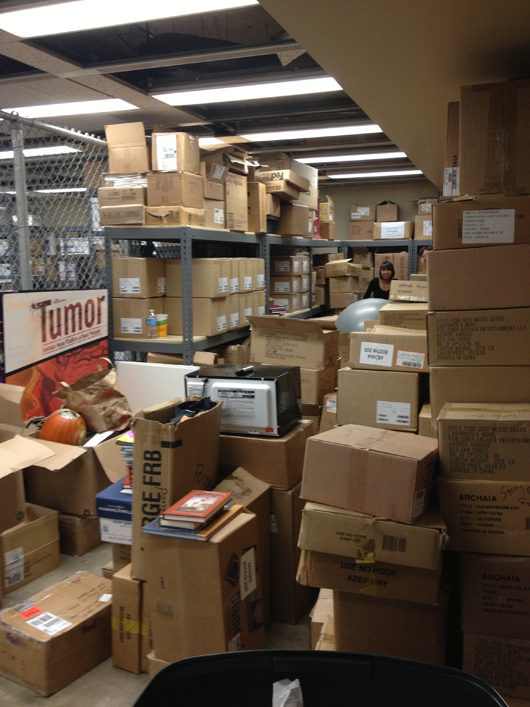 Go ahead... empty out their store room. They'll just make more...
If you want to pick up some BOOM! or Archaia stuff, follow the link to this page.