Beginning Batman In Action!
Newsweek has a sweet article up on the web with a behind-the-scenes look at Warner Brothers' new Batman Begins. Interestingly enough, the article makes no mention of R'as al Ghul, played by Ken Watanabe. So clearly, the production means to have some surprises left for the casual moviegoer.
Check the full article out, but first scope the pics of Christian Bale in full Batman regalia. Okay, Newsweek had them first, but we still felt it was worth bringing to you directly.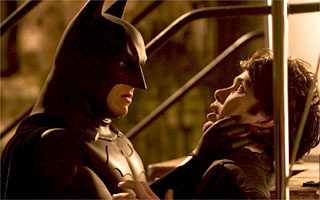 I think we all know what line SHOULD be here...
"I AM the night..."
That's one impressive wingspan.